Laister-Kauffman XCG-10A
---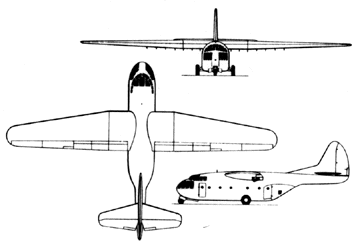 The XCG-10 is a large military glider capable of accommodating 30 troops or a freight load of 5 short tons. It is a high-wing cantilever monoplane with a deep forward fuselage tapering to a tadpole boom which supports the tail unit. At the break in the bottom lines of the fuselage clam-shell doors give access to the main hold 30 ft.(9.15m) long, 7 ft. (2.14m) wide and 8 ft. 6 in. (2.59m) high, which can accommodate a 155mm howitzer or a 2 1/2 ton truck. Structure is entirely of wood with plywood covering. The wings are fitted with Fowler-type landing flaps and have an overall span of 105 ft. (32m). (info from Jane's "Fighting Aircraft of World War II")
Additional info from Charles Day, "The XCG-10 and XCG-10A were two different craft. The 10 was a 30 place glider and the 10A was 42 place. Although some sources say the 10 did not exist and the project was changed to 10A in design stage, the 10 was built both as a static test article and a flight test article. The internal hold size was slightly larger for the 10A to accomodate the GM 6X6 truck. The wingspan stayed the same."

Laister-Kauffman XCG-10 / XCG-10A
Type:           cargo glider (experimental)
Crew:           2
Armament:       none

(no other data available)
If this page does not have a navigational frame on the left, click HERE to see the rest of the website.