Curtiss XF14C
---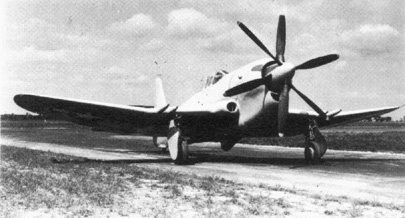 Attempting to regain its position as a supplier of fighter aircraft to the U.S. Navy (a position then dominated by Grumman Aircraft), Curtiss proposed in early 1941 the development of a high-performance, heavily-armed fighter designed around a liquid-cooled engine. At that time the Navy was dedicated to air-cooled engines, but Curtiss' experience with the P-40 gave the company good grounds for its faith in a liquid-cooled unit, and on June 30, 1941 it received a contract for two prototypes, to be designated XF14C-1. The Lycoming XH-2470-4 engine in the first prototype failed to deliver the expected performance during wind tunnel testing, and the Navy eventually concluded that the performance of the XF14C-1 would be inadequate by the time it could be ready to enter service, and the program was cancelled in December 1943. Because the first airframe was virtually complete, the Navy suggested that it be flown with the Wright XR-3350-16 Cyclone engine, driving six-blade contra rotating propellers. In this configuration the aircraft was redesignated XF14C-2, and the first flight was made in July 1944. Performance again fell below expectations, and the R-3350 engine continued to suffer teething problems. The progress of the war in the Pacific made further development of the XF14C-2 unnecessary, and the program was cancelled in the early months of 1945.
Additional information on this aircraft can be found at Wikipedia here.
(updated February 2009)

Curtiss XF14C
Type:           single seat interceptor fighter
Crew:           1: Pilot
Armament:       six .50 inch machine guns or 20mm cannon

Specifications:
        Length:         37' 9" (11.51 m)
        Height:         12' 4" (3.76 m)
        Wingspan:       46' 0" (14.03 m)
        Wing area:      375 sq. ft (34.84 sq. m)
        Empty Weight:   10,582 lb (4804 kg)
        Max Weight:     14,582 lb (6620 kg) max at takeoff

Propulsion:
        No. of Engines: 1
        Powerplant:     Wright XR-3350-16 18-cylinder radial
        Horsepower:     2300 hp

Performance:
        Range:          1355 miles (2180 km)
        Cruise Speed:   296 mph ( 476 km/h)
        Max Speed:      424 mph ( 682 km/h) at 32,000 ft
        Ceiling:        39,500 ft (12,048 m)

Information from "US Navy and Marine Corps Fighters"
by William Green and Gordon Swanborough
(made available by San Diego Aerospace Museum library)

If this page does not have a navigational frame on the left, click HERE to see the rest of the website.