Curtiss XF15C-1
---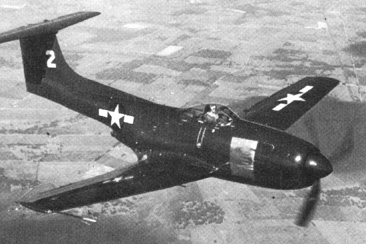 second prototype



third prototype

The XF15C-1 proved to be the last fighter that Curtiss made for the U.S. Navy. It was developed because of a Navy interest in a composite-engined fighter, taking advantage of the thrust of the then novel jet engine to gain high speed but also using a conventional piston engine to obtain the required range. By the time details of the aircraft had been agreed and a contract for three prototypes had been awarded, on April 7, 1944, Ryan Aircraft was already well advanced with its FR-1 Fireball, of similar concept but lower overall performance. Like the FR-1, the XF15C-1 was intended to cruise on the power of its piston engine, and use the turbojet for takeoff and to boost the speed in combat. The first flight (though without the jet engine) was on February 27, 1945, and a month after the jet engine was installed the first prototype crashed, reportedly due to failure of the piston engine. The second prototype flew on July 9, 1945 and testing continued until the end of 1946. The two surviving aircraft were eventually fitted with T-tails (as in the photos above) to overcome a control problem with the original low-set tailplane. The XF15C-1 was eventually outmoded by the advent of pure jet fighters capable of meeting the Navy's requirements, and the program was canceled.
Additional information on this aircraft can be found at Wikipedia here.
(updated February 2009)

Curtiss XF15C-1

Type:           single seat composite-powered fighter
Crew:           1: Pilot
Armament:       four 20mm cannon in the wings

Specifications:
        Length:         44' 0" (13.42 m)
        Height:         150' 3" (4.65 m)
        Wingspan:       48' 0" (14.64 m)
        Wing area:      400 sq. ft (37.16 sq. m)
        Empty Weight:   12,648 lb (5742 kg)
        Max Weight:     18,698 lb (8490 kg) max at takeoff

Propulsion:
        No. of Engines: 2
	Powerplant #1: 	Pratt & Whitney R-2800-34W radial
	Powerplant #2: 	Allis-Chalmers J36 turbojet
	Horsepower:	2100 hp (piston)+2700 lb thrust (jet)

Performance:
        Range:          635 miles (1022 km)
        Cruise Speed (piston only):
			163 mph (262 km/h)
        Max Speed (both engines):
			469 mph (755 km/h) at 25,300 ft
        Ceiling:        41,800 ft (12,750 m)


Information from "US Navy and Marine Corps Fighters"
by William Green and Gordon Swanborough
(made available by San Diego Aerospace Museum library)

If this page does not have a navigational frame on the left, click HERE to see the rest of the website.