Grumman XP-50 Skyrocket
---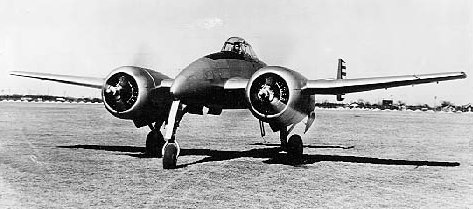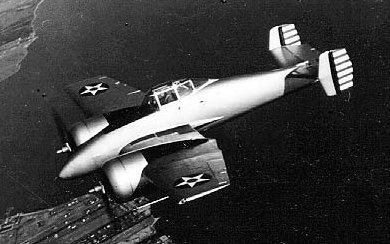 In 1940 Grumman Aircraft had developed a twin engine carrier-based fighter prototype for the U.S. Navy, designated the XF5F Skyrocket.While only a single prototype was developed for the Navy, the Air Corps showed more of an interest and contracted with the firm to produce a prototype to be designated the XP-50. The Air Corps had some differing requirements, and while generally similar to the XF5F-1, the nose had to be further elongated to accommodate the requested tricycle landing gear arrangement. The engine installation was different as well. Two turbocharged Wright R-1820-40/42 engines were hung on the nacelles. The USAAC wanted good performance at high altitude. Taking to the air in May of 1941, the XP-50 Skyrocket suffered from stubborn problems of engine overheating. The airframe eventually was written off after being severely damaged as a result of a turbocharger explosion. No other examples were built.

(Photos courtesy of the U.S. Air Force. History info courtesy of "The Planes and Pilots of World War II" website)

For more data on this aircraft, click here for Joe Baugher's webpage.
USAF archives on this aircraft, click here.
Additional information on this aircraft can be found at Wikipedia here.
(updated February 2009)


Grumman XP-50 Skyrocket
Type:		Fighter
Crew:		1, Pilot
Armament: 	4 .50 Fifty caliber machine guns,
		1 20mm cannon,
		165 lbs. bombs

Specifications:
	Length:        	31' 11"
	Height:        	12'
	Wingspan:      	42'
	Wing area:	unknown
	Empty Weight:  	8,300 lb
	Loaded Weight: 	10,600 lb

Propulsion:
	No. of Engines:	2
	Powerplant:    	Wright R-1820-67/69 radial
	Horsepower:	1200 hp each

Performance:
	Range:		1,250 miles
	Cruise Speed:   unknown
	Max Speed:      425 mph
	Ceiling:       	40,000 ft

(Since the Xp-50 did not complete its flight testing,
these performances are estimates.)


XP-50 data provided by Josh Henderson of Vienna, VA.


If this page does not have a navigational frame on the left, click HERE to see the rest of the website.