Northrop XP-56 "Black Bullet"
---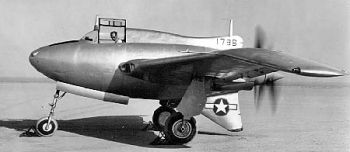 The Northrop XP-56 was designed as a competitor for a 1939 USAAC specification for a single-seat interceptor fighter, competing against the Curtiss-Wright XP-55, and the Vultee XP-54. Only two prototypes were made, and testing showed it to not only underperform, but be basically un-airworthy. The project was cancelled, but lessons learned from the XP-56 came in handy with later Northrop flying wing designs.
For more data on this aircraft, click here for Joe Baugher's webpage.
USAF archives on this aircraft, click here.
To acquire a model of this aircraft: Collect-Aire Models
Additional information on this aircraft can be found at Wikipedia here.
(updated February 2009)

Northrop XP-56 "Black Bullet"
Type:           single-seat fighter
Crew:           1
Armament:       four .50 cal machine guns in the nose
                two 20mm cannon in the nose

Specifications:
        Length:         27' 6"
        Height:         11' 0"
        Wingspan:       42' 6"
        Wing area:      306 sq. ft
        Empty Weight:   8700 lb
        Max Weight:     12,145 lb max at takeoff

Propulsion:
        No. of Engines: 1
        Powerplant:     Pratt & Whitney R-2800-29 18-cylinder
        Horsepower:     2000 hp

Performance (manufacturer's estimates):
        Range:          445 miles
        Cruise Speed:   N/A
        Max Speed:      465 mph at 25,000 ft
        Ceiling:        33,000 ft


If this page does not have a navigational frame on the left, click HERE to see the rest of the website.