Republic XP-72
---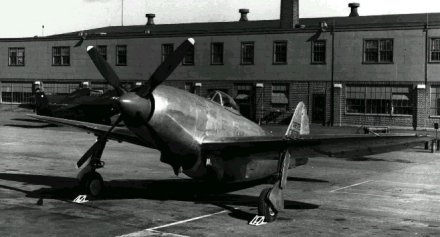 (Thanks to Jon Brunker for providing the photo for this page.)
The XP-72 was a more-or-less straightforward progressive development of the P-47 Thunderbolt, designed to be a successor for that very successful aircraft. With a 3450 hp engine, a maximum speed of 500mph was hoped for. After favorable testing of the prototype, the USAAF ordered 100 examples, though the contract was cancelled with the changing course of the war. Only the two prototypes were built, one of which crashed, and the other was eventually scrapped.
For more data on this aircraft, click here for Joe Baugher's webpage.
USAF archives on this aircraft, click here.
Additional information on this aircraft can be found at Wikipedia here.
(updated February 2009)

Republic XP-72
Type:              Fighter
Crew:           1, Pilot
Armament:       six .50 cal machine guns
                or optionally four 37-mm cannon
                plus optional two 1000 lb. bombs

Specifications:
        Length:         36' 7"
        Height:         16' 0"
        Wingspan:       40' 11"
        Wing Area:      300 sq. ft.
        Empty Weight:   11,476 lbs
        Max Weight:     17,490 lbs

Propulsion:
        No. of Engines: 1
        Powerplant:     Pratt & Whitney R-4360-13 Wasp Major
        Horsepower:     3450 hp

Performance:
        Range*:         2520 miles
        Max Speed:      490 mph
        Ceiling:        42,000 ft

* (with two 125 Imp. gall. drop tanks)

If this page does not have a navigational frame on the left, click HERE to see the rest of the website.