Bell XP-77
---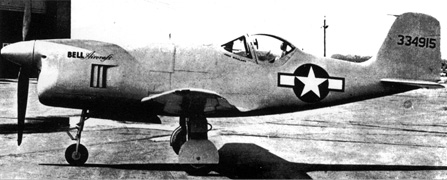 The XP-77 was an experimental all-wood lightweight single-seat fighter which was designed at a time when a shortage of aluminum alloy metals for aircraft appeared imminent.
For more data on this aircraft, click here for Joe Baugher's webpage.
USAF archives on this aircraft, click here.
Additional information on this aircraft can be found at Wikipedia here.
(updated February 2009)

Bell XP-77

Type:           single-seat fighter
Crew:           1
Armament:       one 20mm cannon
                two .50 cal machine guns

Specifications:
        Length:         22' 10.5" (6.9 m)
        Height:         8' 2"
        Wingspan:       27' 6" (8.38 m)
        Wing area:      100 sq. ft (9.29 sq. m)
        Weight empty:   2855 lb
        Weight max:     4028 lb max at takeoff

Propulsion:
        No. of Engines: 1
        Powerplant:     Ranger V-770-7 12-cylinder inline
        Horsepower:     575 hp

Performance:
        Max speed:      330 mph at 4000 ft.
        Ceiling:        30,100 ft.
        Range:          550 miles


If this page does not have a navigational frame on the left, click HERE to see the rest of the website.