TWA FLIGHT 800
WAS DOWNED BY A MISSILE
Don't believe what you hear on the evening news about this story. The Government has muzzled/bamboozled the media into spreading the false explanation of the story. The truth seems to be that the plane was downed with a U.S. Stinger missile, most likely fired by the Iranians in retaliation for us shooting down their airbus. There is also the possibility that the U.S. military accidently downed the airliner while aiming at a drone during wargames in the area of the "accident". In any case, the Government is powerless to deal with the truth, so they suppress it. Check out all the following links.... you'll probably come to the same conclusion.
Navy Drone Debris Found in TWA Wreckage?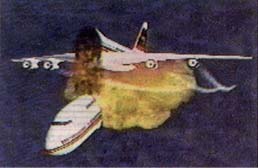 TWA 800 Evidence Disappearing Fast
War On TWA 800 Journalist Continues
Truth by Threat of Death
TWA 800 - Disappeared and Censored News
TWA 800 Researchers Pay A Heavy Price
Retired Navy Pilot Says Missiles Downed TWA Flight 800
TWA 800 - The Latest NTSB Response Termed More Lies
TWA 800 Investigation Rips Government's Story To Shreds
New TWA 800 Radar Tapes Inexplicably Appear Revealing 'Blip Activity'
Cmdr Donaldson's Interim Report On TWA 800 - The FBI & The NTSB
TWA 800 Missile Update - Comparing The Goverment Line To Missile Evidence
Boeing's Defence? TWA 800 Downed By U.S. Missile TWA Flight 800: Reasonable Doubt?
TWA 800 FBI Witness Forms Being Released - Many Describe Seeing MISSILE Rise Up
TWA 800 Missile(?) In Party Photo Revealed - Stunning New Computer Enhancements Clearly Show Object In Sky
archived Sightings radio shows on TWA 800 - June 28, July 21, August 10 (1998) shows


TWA 800 - New Letter From William Donaldson, Cdr. USN/Ret. To NTSB
New Photos Show TWA 800 Cover-Up Says James Sanders
TWA 800 National Press Conference Summary
'We Saw TWA 800 Shot Down By Missile' Ad Placed In Washington Times
Independent Panel Of Experts Blasts Government TWA 800 Crash Report
'Now I Understand What Happened in Germany' - TWA Flight 800
Pilot Of TWA 800 Just Before Fateful Flight Questions Official Conclusions
Investigating TWA Flight 800
The Crash of TWA Flight 800 - Animated witness sketches
The FBI's role in the coverup of the missile downing TWA Flight 800
The Flight 800 Independent Researchers Organization website
Haunting evidence of missile attack: New video documentary makes compelling case for shootdown
New TWA 800 Video Leaves Pilots In 'Stunned Horror'
TWA 800 - Unraveling The Cover-Up
Did Feds Withhold TWA 800's Final Four Seconds Of Recorder Data?
TWA 800 - Connecting The Dots... The Psychology Of A Cover-Up
FBI / NTSB / CIA and the fabrication/altering of eyewitness testimonies
TWA 800 - Exploding Hypotheses, Part I and Part II
The Incredible Shrinking Climb
TWA 800 CASE FILES : The Drone Faxes
TWA 800 - St. Louis Dog Exercise Exposed As Red Herring
NTSB Secretly Destroys Incriminating TWA 800 Evidence
TWA 800 - Satellites Tell The Truth
TWA 800 Coverup - Someone Has Finally Talked!
Flight 800: Breakthrough!
TWA Flight 800 Probable Cause Announced


TWA 800 - Missile Website Roadmap
---
This is a page of links to (possibly) temporary articles and other peoples's websites. If you find that a link no longer works, please EMAIL ME so that I can remove it. Thanks!