Nakajima E8N Type 95 ("Dave")


---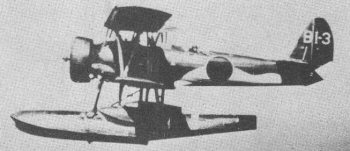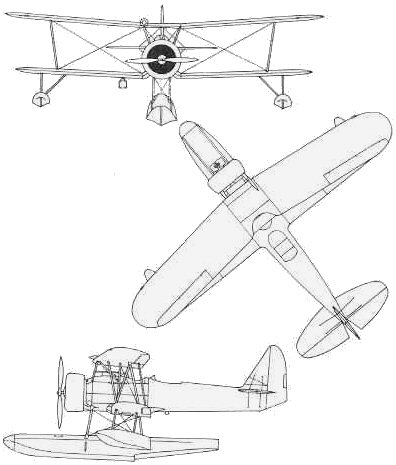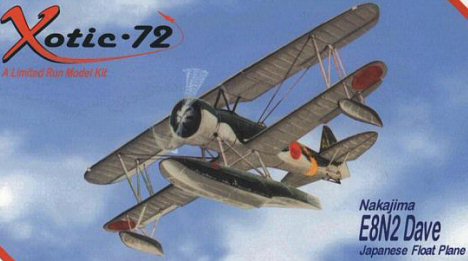 model box artwork
The Nakajima E8N was a ship-borne, catapult-launched, reconnaissance seaplane. It was a single-engine, two-seat biplane with a central main-float and underwing outriggers. During the Pacific War, it was known to the Allies by the code name "Dave". The E8N was developed as a replacement for the same company's earlier E4N aircraft. Seven prototypes were constructed, and the type was first flown in March 1934. It was ordered into production, designated Navy Type 95 Reconnaissance Seaplane Model 1 in October 1935. A total of 755 E8Ns were built by Nakajima and Kawanishi, production continuing until 1940. It was subsequently shipped aboard all the capital ships then in service, 16 cruisers and five seaplane tenders. It was used successfully in the Second Sino-Japanese War not only for reconnaissance, but also for dive-bombing and artillery spotting. Some aircraft remained in service with the fleet at the outbreak of the Pacific War but they were soon replaced by more modern aircraft such as the Aichi E13A and the Mitsubishi F1M, with the E8N being reassigned to second-line duties.
Nakajima E8N1

Type:           Reconnaissance floatplane
Service: 	Japanese Navy Air Force (JNAF)
Crew:           two
Armament:       one fixed forward-firing 7.7mm machine gun
		one flexible rear-firing 7.7mm machine gun
		two 66 lb (30 kg) bombs
Reference: 	Francillon: 410

Specifications:
        Length:         28' 11" (8.81 m)
        Height:         12' 7" (3.84 m)
        Wingspan:       36' 0.25" (10.98 m)
        Wing area:      285 sq. ft (26.5 sq. m)
        Empty Weight:   2910 lbs (1320 kg)
        Max Weight:     4189 lbs (1900 kg)

Propulsion:
        No. of Engines: 1
        Powerplant:     Nakajima Kotobuki 2 KAI 1 9-cylinder radial
        Horsepower:     580 hp 

Performance:
        Range:          485 nautical miles (558 st miles)
        Cruise Speed:   115 mph (100 km/hr) 
        Max Speed:      186 mph (162 km/hr) at 9845 ft (3000 m)
        Climb to/in:    9845 ft (3000 m) in 6 min 31 sec
        Ceiling:        23850 ft (7270 m)
Production:		approximately 755 E8Ns



Additional information on this aircraft can be found at Wikipedia HERE.

For a very nice scale color drawing of this aircraft, see here.
Additional color schemes for this aircraft can be found here.



(go to Nakajima page)
If you don't see the table of contents at the left of your screen, CLICK HERE to see the rest of this website!