Kawanishi H8K Type 2 ("Emily")

---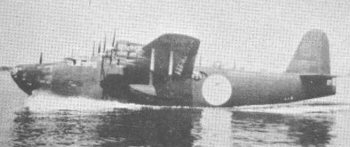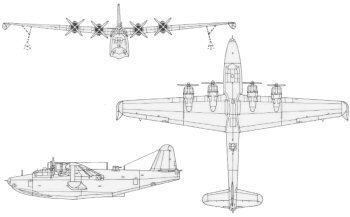 Click HERE to see color drawings of the Emily
Click HERE to see a very nice painting of this aircraft by Shigeo Koike
The Kawanishi H8K was the largest and the best of the Japanese seaplanes. The official Allied codename for it was the "Emily", but the unofficial nickname was the "Flying Porcupine". The nickname alluded to the aircraft's abundant defensive armament. The main production model, the H8K2, had five 20mm cannons and five machine guns. Firepower was not the aircraft's most distinctive feature, however. Its long range, speed, and excellent general performance made it an ideal plane for long-range naval reconnaissance. It was originally designed to address the shortcomings of the H6K seaplane, which were insufficient armament, inadequate protective armor, and less than satisfactory overall performance. The H8K design succeeded admirably in fixing those problems. Only 167 aircraft were built between 1941 and 1945, but the H8K was unanimously considered the best plane of its type anywhere in the world at that time.
Kawanishi H8K Type 2
Type:           Flying Boat
Service: 	Japanese Navy Air Force (JNAF)
Crew:           nine
Armament:       four 7.7mm Type 92 machine guns (1 in nose, 1 in cockpit, 2 in side hatches)
		five 20mm Type 99 Model I cannon (1 each in bow, dorsal and tail turrets, plus 
		one in each of the two beam hatches)
		two 1764 lb (800 kg) torpedoes or 16 132 lb (60 kg) bombs or depth charges
Reference: 	Francillon: 313, Mondey: 136

Specifications:
        Length:         92' 4" (28.13 m)
        Height:         30' 0.25" (9.15 m)
        Wingspan:       124' 8" (38 m)
        Wing area:      1722.219 sq. ft (160 sq. m)
        Empty Weight:   40,521 lbs (18380 kg)
        Max Weight:     71,650 lbs (32500 kg)

Propulsion:
        No. of Engines: 4
        Powerplant:     Mitsubishi MK4Q Kasei 22 14-cylinder radial
        Horsepower:     1825 hp each

Performance:
        Range:          4445 st miles (3862 nautical miles)
        Cruise Speed:   184 mph at 13125 ft (160 kt at 4000 m)
        Max Speed:      290 mph at 16405 ft (252 kt at 5000 m)
        Climb to/in:    16405 ft (5000 m) in 10 min 12 sec
        Ceiling:        29035 ft (8850 m)
Production:		approximately 167 H8Ks total

Additional information on this aircraft can be found at Wikipedia HERE.

For several very nice scale color drawings of this aircraft, see here (4 versions available on left).
Additional color schemes for this aircraft can be found here.
If you don't see the table of contents at the left of your screen, CLICK HERE to see the rest of this website!