Kawasaki Ki.108

---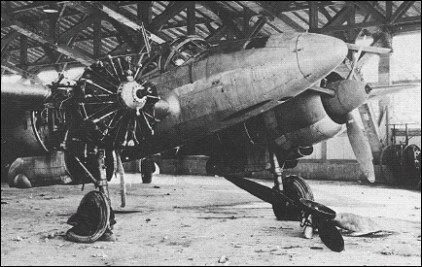 The Kawasaki Ki-108 was a high-altitude fighter prototype with a pressurized cabin, based on the Ki-102b aircraft. Two prototype aircraft were converted from a pair of Ki-102b aircraft, with the pressure cabin and modified tail surfaces as the main differences. While these two prototypes were undergoing flight trials, production of two more modified aircraft was begun. To improve performance and manoeuvrability at high altitudes, the Ki-108 KAI featured a lengthened fuselage and wings of increased span and area similar to those used on the Ki-102c night fighter. These two aircraft were still being tested at the end of the war.
Kawasaki Ki.108 KAI
Type: 		High altitude fighter
Service: 	Japanese Army Air Force (JAAF)
Crew: 		1
Armament: 	two 20mm Ho-5 cannon under the fuselage
		one 37mm Ho-203 cannon in the nose
Reference: 	Francillon: 138

Specifications:
Length: 		42' 9.75" (13.05 m)
Height: 		12' 1.75" (3.7 m)
Wingspan: 		56' 11" (17.35 m)
Wing area: 		430.555 sq. ft (40 sq. m)
Empty Weight: 		11464 lbs (5200 kg)
Loaded Weight: 		16755 lbs (7600 kg)

Propulsion:
No. of Engines: 	2
Powerplant: 		Mitsubishi Ha-112-II 14-cylinder radial
Horsepower: 		1250 hp each

Performance:
Range (normal): 	1367 miles (2200 km)
Cruise Speed: 		n/a 
Max Speed: 		373 mph (600 km/h) at 32,810 ft (10000 m)
Climb to/in: 		n/a
Ceiling: 		44,290 ft (13,500 m)
Production:		four (2 prototype Ki-108s, 2 Ki-108 KAIs built)

Additional information on this aircraft can be found at Wikipedia HERE.


If you don't see the table of contents at the left of your screen, CLICK HERE to see the rest of this website!