Mitsubishi Ki.109

---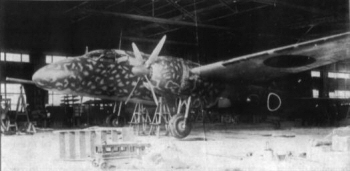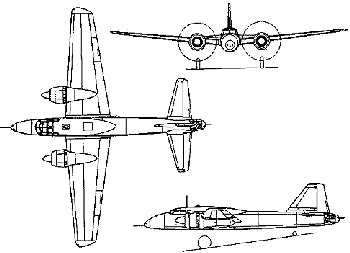 Click HERE to see color drawings of the Ki-109
Several experimental versions of the Ki-67 were designed in the last years of the war. The only design of any consequence was the the transformation of the Ki-67 to a heavy fighter. Twenty-two planes of this model, known as the Ki-109, were built. The only differences from the original were in the armament and the forward part of the fuselage. The glassed-in nose was replaced by a faired 75mm cannon. This gun had 15 projectiles. It was to be used against the American B-29s at high altitude. Test results were satisfactory, but by the time a sufficient number of aircraft were ready, there had been a radical change in Allied tactics and the planes were no longer needed, because the B-29s began making night raids at low altitude.
Mitsubishi Ki.109
Type:           night fighter / daylight heavy fighter
Service: 	Japanese Army Air Force (JAAF)
Crew:           four
Armament:       one forward firing 75mm cannon in nose
		one 12.7mm Type 1 machine gun in tail turret
		2205 lb (1000 kg) of bombs maximum
Reference: 	Francillon: 196, Mondey: n/a

Specifications:
        Length:         58' 10.75" (17.95 m)
        Height:         19' 1" (5.8 m)
        Wingspan:       73.82' 10" (22.5 m)
        Wing area:      708.801 sq. ft (65.85 sq. m)
        Empty Weight:   16,367 lbs (7424 kg)
        Loaded Weight:  23,810 lbs (10,800 kg)

Propulsion:
        No. of Engines: 2
        Powerplant:     Mitsubishi Ha-104 18-cylinder radial
        Horsepower:     1900 hp each

Performance:
        Max Range:      1367 miles (2200 km)
        Cruise Speed:   n/a
        Max Speed:      342 mph (550 km/hr) at 19980 ft
        Climb to/in:    n/a
        Ceiling:        n/a
Production:		approximately 22 Ki-109s total



Additional information on this aircraft can be found at the Military Factory webpage HERE.


For a very nice scale color drawing of this aircraft, see here.
If you don't see the table of contents at the left of your screen, CLICK HERE to see the rest of this website!