Mitsubishi Ki.67 Type 4 Hiryu ("Peggy")


---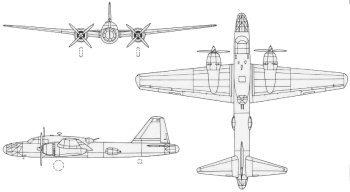 The last heavy bombers used in large quantities by the Japanese army was also the best. The Mitsubishi Ki-67 Hiryu ("Flying Dragon") was extremely maneuverable, fast, and well armed. The plane reached combat units when it was too late to change the course of the war. The Ki-67 ("Peggy" in the Allied code) saw duty in the Japanese counteroffensive at Iwo Jima and in the Marianas, as well at during the American landing at Okinawa. Priority was given to the production of Ki-67s until the end of the war. The army authorities issued specifications for the successor to the Nakajima Ki-49 Donyru in February, 1941, and Mitsubishi took up the project. The first of three prototypes was ready in December of 1942, with testing beginning at the end of that year. No major problems were encountered; in fact the plane's performance was so satisfactory that it was decided to adapt it for torpedo duty as well. Some of these aircraft were later given to the Navy, where they were designated Yasukuni. The Ki-67 made its operational debut as a torpedo plane in October of 1944, during the combined air and naval battles off the coast of Formosa. Subsequently the Hiryu was used jointly by the army and navy in all major operational theaters. A total of 698 Ki-67s were built. Another aircraft was also derived from the Ki-67, which was a heavy fighter interceptor known as the Ki-109.
Mitsubishi Ki.67 Type 4
Type:           Heavy Bomber
Service: 	Japanese Army Air Force (JAAF)
Crew:           six to eight
Armament:       four 12.7mm Type 1 machine guns (nose, tail, 2 in waist)
		one 20mm Ho-5 cannon in dorsal turret
		1764 lb (800 kg) of bombs maximum, or one torpedo
Reference: 	Francillon: 191, Mondey: 

Specifications:
        Length:         61' 4.25" (18.7 m)
        Height:         25' 3.2" (7.7 m)
        Wingspan:       73' 9.6" (22.5 m)
        Wing area:      708.801 sq. ft (65.85 sq. m)
        Empty Weight:   19,068 lbs (8649 kg)
        Loaded Weight:  30,347 lbs (13765 kg)

Propulsion:
        No. of Engines: 2
        Powerplant:     Mitsubishi Ha-104 18-cylinder radial
        Horsepower:     1900 hp each

Performance:
        Max Range:      1360 miles (3800 km)
        Cruise Speed:   249 mph (400 km/hr) at 26245 ft
        Max Speed:      334 mph (537 km/hr) at 19980 ft
        Climb to/in:    19685 ft (6000 m) in 14 min 30 sec
        Ceiling:        31070 ft (9470 m)
Production:		approximately 698 Ki-67s total


Additional information on this aircraft can be found at Wikipedia HERE.

For several very nice scale color drawings of this aircraft, see here (8 versions available on left).
Additional color schemes for this aircraft can be found here.
If you don't see the table of contents at the left of your screen, CLICK HERE to see the rest of this website!