Kawasaki Ki.60


---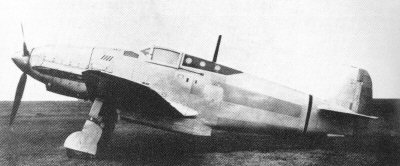 The Kawasaki Ki-60 was designed at the same time as the Kawasaki Ki-61, using the same engine. The difference was that the Ki-60 was to be a heavy interceptor, and the Ki-61 was to be a lighter all-purpose fighter. Unlike the Ki-61, however, the emphasis in the Ki-60 was on speed, rate of climb, and cannon armament. The first Ki-61 prototype flew in March 1941, but further testing proved it to be unpopular with the test pilots. Further improvements were made during its development, but ultimately the Ki-60 project was abandoned in favor of the Ki-61. Only three prototypes were ever built.
Kawasaki Ki.60
Type:           Army Experimental Interceptor Fighter
Service: 	Japanese Army Air Force (JAAF)
Crew:           Pilot
Armament:       two 12.7mm Type 1 (Ho-103) machine guns in nose
		two 12.7mm Type 1 (Ho-103) machine guns in wings
Reference: 	Francillon: 112, Mondey: n/a

Specifications:
        Length:         27' 9.5" (8.47 m)
        Height:         12' 1.75" (3.7 m)
        Wingspan:       34' 5.5" (10.4 m)
        Wing area:      174.375 sq. ft (16.2 sq. m)
        Empty Weight:   4740 lbs (2150 kg)
        Loaded Weight:  6063 lbs (2750 kg)

Propulsion:
        No. of Engines: 1
        Powerplant:     Daimler-Benz DB 601A 12-cyclinder inverted-vee liquid-cooled engine
        Horsepower:     1100 hp

Performance:
        Range: 		n/a
        Cruise Speed:   n/a
        Max Speed:      348 mph (560 km/h) at 14,765 ft (4500 m)
        Climb to/in:    16,405 ft (5000 m) in 8 min 0 sec
        Ceiling:        32,810 ft (10,000 m)
Production:		only three prototypes made

Additional information on this aircraft can be found at Wikipedia HERE.


For a very nice scale color drawing of this aircraft, see here.



(go to Kawasaki page) 
If you don't see the table of contents at the left of your screen, CLICK HERE to see the rest of this website!