Kawasaki Ki.88

---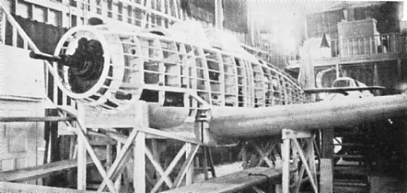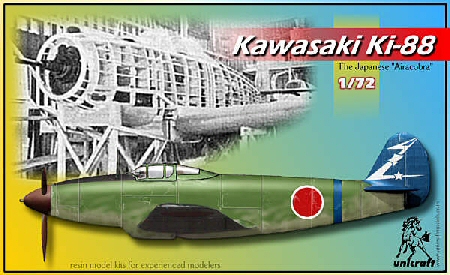 model box artwork
The Kawasaki Ki-88 was a proposed design that was inspired by the Bell P-39 Airacobra of the US Army Air Forces. It had its liquid-cooled engine mounted behind the cockpit and driving a tractor propeller via an extension shaft. Design was undertaken in 1942 but, following the inspection of a full-scale mockup, development was discontinued within a year as its calculated maximum speed was only slightly higher than that of the Ki-61 already in production.
Kawasaki Ki.88
Type:           Fighter
Service: 	Japanese Army Air Force (JAAF)
Crew:           Pilot
Armament:       37mm cannon in the propeller shaft
		two 20mm cannons in the lower nose
Reference: 	Francillon: 483

Specifications:
        Length:         33' 5.5" (10.2 m)
        Height:         n/a
        Wingspan:       40' 8.2" (12.4 m)
        Wing area:      n/a
        Empty Weight:   n/a
        Loaded Weight:  8598 lbs (3900 kg)
        Max Weight:     n/a

Propulsion:
        No. of Engines: 1
        Powerplant:     Kawasaki Ha-140 liquid-cooled engine
        Horsepower:     1500 hp

Performance:
        Range (normal): n/a
        Cruise Speed:   n/a 
        Max Speed:      373 mph (592 km/h) at 19,685 ft
        Climb to/in:    n/a
        Ceiling:        n/a
Production:		none made

Additional information on this aircraft can be found at Wikipedia HERE.


(go to Kawasaki page)
If you don't see the table of contents at the left of your screen, CLICK HERE to see the rest of this website!