Nakajima Kikka (no codename)


---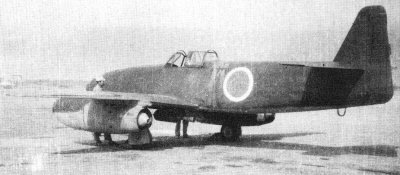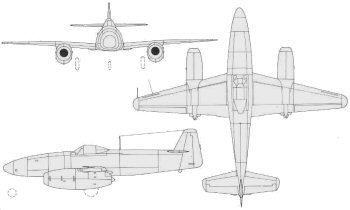 The Nakajima Kikka (translation: "Orange Blossom") was an attempt by Japan to build a fast bomber powered by jet engines, along the lines of the German ME-262A. While it closely resembled the ME-262, it was an all-Japanese design, though smaller. It was the only jet-propelled aircraft to fly in Japan during the war, though it only got off the ground twice. An additional modification of interest in the design included the use of fold-back wings, so that the plane could be hidden in caves and tunnels. Additional versions of the Kikka were also envisaged, including a two-seat trainer, a reconnaissance version, and a fighter interceptor version. Work began on the Kikka project in September of 1944. The bomber prototype first flew on August 7, 1945, and the project did not have time to make much more progress before the war ended. Another Japanese aircraft that was similar was the Ki-201 Karyu, which was more of an exact copy of the Me-262 than the Kikka was. The Ki-201 was more of a conceptual design than a real aircraft, as opposed to the Kikka, which actually reached the flight testing stage. Note: in some sources the Kikka is referred to with the designation J8N1 or J8N-1, but I have seen no official sources (such as Francillion) use that designation.
Nakajima Kikka
Type:           Attack Bomber
Service: 	Japanese Navy Air Force (JNAF)
Crew:           pilot
Armament:       one 1102 lb (500 kg) bomb or one 1764 lb (800 kg) bomb
                interceptor version was to be armed with two 30mm Type 5 cannon
Reference: 	Francillon: 443 

Specifications:
        Length:         26' 8" (8.125 m)
        Height:         9' 8.2" (2.95 m)
        Wingspan:       32' 9.75" (10 m)
        Wing area:      142.083 sq. ft (13.2 sq. m)
        Empty Weight:   5071 lbs (2300 kg)
        Loaded Weight:  7716 lbs (3500 kg)
        Max Weight:     8995 lbs (4080 kg)

Propulsion:
        No. of Engines: 2
        Powerplant:     NE-20 axial-flow turbojet
        Power:     	1047 lb (475 kg) of thrust 

Performance:
        Range:          509 naut miles (586 st miles)
        Cruise Speed:   n/a
        Max Speed:      433 mph  at 32810 ft (363 kt at 10,000 m)
        Climb to/in:    32810 ft (10000 m) in 26 min
        Ceiling:        39370 ft (12000 m)
Production:		two aircraft built, 18 more under construction

Additional information on this aircraft can be found at Wikipedia HERE.

For a very nice scale color drawing of this aircraft, see here.
Additional color schemes for this aircraft can be found here.

If you don't see the table of contents at the left of your screen, CLICK HERE to see the rest of this website!