Aichi E16A1 Zuiun ("Paul")


---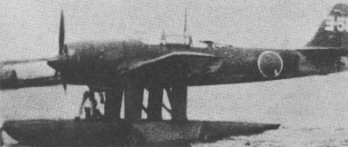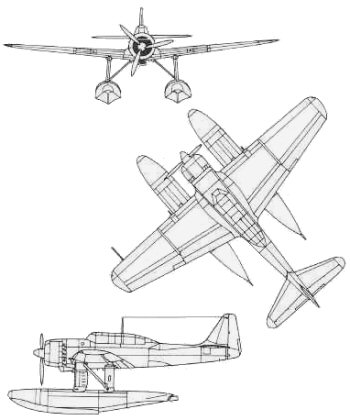 The Aichi E16A Zuiun ("Cloud of Good Omens") was designed to replace the E13A as a carrier-based naval reconnaissance plane. The final prototype appeared in August 1943, but production was not authorized until 1944. A total of 256 were built, too few to adequately replace the older plane. The E16A (known as "Paul" in the Allied code) had the same general lines as its predecessor, with one difference being that the wingtips and the tail were built of wood to save strategic materials.
Aichi E16A1 Zuiun
Type:           Reconnaissance Seaplane
Service: 	Japanese Navy Air Force (JNAF)
Crew:           Pilot and gunner
Armament:       one rear-firing 13mm Type 92 machine gun
		two wing-mounted 20mm Type 99 Model 2 cannons
 		551 lbs (250 kg) of bombs
Reference: 	Francillon: 287, Mondey: 11

Specifications:
        Length:         35' 6.5" (10.833 m)
        Height:         15' 8.5" (4.791 m)
        Wingspan:       42' 0.3" (12.81 m)
        Wing area:      301.388 sq. ft (28 sq. m)
        Empty Weight:   6493 lbs (2945 kg)
        Max Weight:     10038 lbs (4553 kg)

Propulsion:
        No. of Engines: 1
        Powerplant:     Mitsubishi MK8D Kinsei 54 14-cylinder radial
        Horsepower:     1300 hp

Performance:
        Range (max): 	1307 miles (1504 st miles)
        Cruise Speed:   207 mph (180 kt/hour) at 18,045 ft (5500 m)
        Max Speed:      273 mph (237 kt/hour) at 18,045 ft (5500 m)
        Climb to/in:    9845 ft (3000 m) in 4 min 40 sec
        Ceiling:        32,810 ft (10,000 m)
Production:		approximately 256 E16As total 


Additional information on this aircraft can be found at Wikipedia HERE.

For a very nice scale color drawing of this aircraft, see here.
Additional color schemes for this aircraft can be found here.
If you don't see the table of contents at the left of your screen, CLICK HERE to see the rest of this website!