Aichi M6A Seiran


---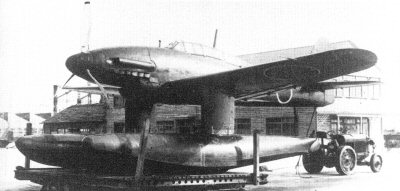 The Aichi M6A Seiran (Mountain Haze) has the distinction of being the only submarine-borne aircraft to have been built anywhere in the world with offensive missions as its primary role, with its place in history being assured even though the second World War ended before the aircraft could fly its first sortie. Intended for the large I-400 class submarines (each with a cruising radius of 41,575 nautical miles and a watertight hangar that could enclose 2-3 aircraft), the Aichi M6As were designed to meet a 1942 Navy specification for a fast catapult-launched aircraft. Two versions were designed, the M6A1 Seiran with detachable floats and intended for attack missions and the trainer version, the M6A1-K Seiran Kai, a land-based aircraft with retractable undercarriage. The popular name of the M6A1-K was later changed to Nanzan (Southern Mountain). The M6A1 Seiran was characterized by a complicated wing and tail folding system. Despite the complexity of the folding mechanism and the lack of space aboard the submarine, the M6A1 could be readied for flight in less than seven minutes by four trained personnel. Plans were in the works for an attack on the lock gates of the Panama Canal by Seirans from four Japanese submarines. However, the target was changed to the US Navy's anchorage at Ulithi Atoll and the First Submarine Flotilla put to sea in late July 1945. The war ended before the attack could take place. The one surviving example of a Seiran is on display at the Smithsonian Institution's Udvar-Hazy Center in Washington, D.C.
Aichi M6A Seiran
Type:           Special Attack Bomber
Service: 	Japanese Navy Air Force (JNAF)
Crew:           two
Armament:       one flexible rear-firing 13mm Type 2 machine gun
		two 551 lb (250 kg) bombs or one single 1874 lb (850 kg) bomb
Reference: 	Francillon: 291

Specifications:
        Length:         38' 2.25" (11.64 m)
        Height:         15' 0.25" (4.58 m)
        Wingspan:       40' 2.75" (12.272 m)
        Wing area:      290.624 sq. ft (27 sq. m)
        Empty Weight:   7277 lbs (3301 kg)
        Loaded Weight:  8907 lbs (4040 kg)
        Max Weight:     9800 lbs (4445 kg)

Propulsion:
        No. of Engines: 1
        Powerplant:     Aichi AE1P Atsuta 32 12-cylinder liquid-cooled engine
        Horsepower:     1400 hp 

Performance:
        Range:          642 nautical miles (739 st miles)
        Cruise Speed:   184 mph (160 kt) at 9845 ft (3000 m) 
        Max Speed:      295 mph (256 kt) at 17,060 ft (5200 m)
        Climb to/in:    9845 ft (3000 m) in 5 min 48 sec
        Ceiling:        32480 ft (9900 m)
Production:		26 M6A1s total (not including 2 M6A1-Ks)



Additional information on this aircraft can be found at Wikipedia HERE.

For a very nice scale color drawing of this aircraft, see here.
Additional color schemes for this aircraft can be found here.
If you don't see the table of contents at the left of your screen, CLICK HERE to see the rest of this website!