Kokusai Ki.76 Type 3 ("Stella")


---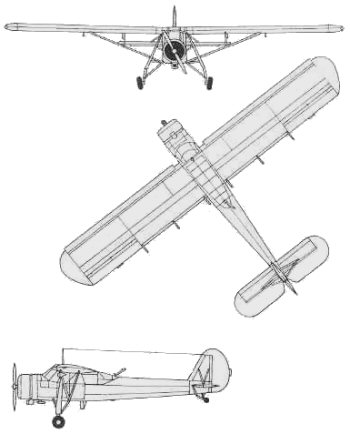 The Kokusai Ki-76 was the Japanese equivalent of the German Fieseler Fi-156 Storch, but it was not a mere copy. The main differences were a different system of wing flaps and the use of a radial engine instead of the Storch's inverted-V engine. In many other respects the aircraft were similar, though the Ki-76 had improved general characteristics, resulting in the Ki-76 being able to outperform the Fi-156 in everything except landing distance. The Ki-76 went into production in the fall of 1942 and was used until the end of the war as a liaison and artillery observation plane. It is not known how many of these light planes, known as "Stella" to the Allies, were built before production ended in 1944. Another similar aircraft was the Kobe Army Type Te-Go, which was in fact a licensed built copy of the Fieseler Fi-156 Storch.
Kokusai Ki.76 Type 3
Type:           Liaison
Service: 	Japanese Army Air Force (JAAF)
Crew:           two (pilot and observer)
Armament:       one flexible rear-firing 7.7mm Type 89 machine gun
		two 132 lb (60 kg) depth charges
Reference: 	Francillon: 147

Specifications:
        Length:         31' 4.3" (9.56 m)
        Height:         9' 6.23" (2.9 m)
        Wingspan:       49' 2.5" (15 m)
        Wing area:      316.458 sq. ft (29.4 sq. m)
        Empty Weight:   2447 lbs (1110 kg)
        Loaded Weight:  3373 lbs (1530 kg)
        Max Weight:     3571 lbs (1620 kg)

Propulsion:
        No. of Engines: 1
        Powerplant:     Hitachi Ha-42 9-cylinder air-cooled radial
        Horsepower:     310 hp 

Performance:
        Range:          466 miles (750 km)
        Cruise Speed:   n/a 
        Max Speed:      111 mph (178 kmh) at 17,060 ft (5200 m)
        Climb to/in:    n/a
        Ceiling:        18470 ft (5630 m)
Production:		undetermined number of Ki-76 manufactured



Additional information on this aircraft can be found at Wikipedia HERE.
If you don't see the table of contents at the left of your screen, CLICK HERE to see the rest of this website!