Mitsubishi Ki.57 Type 100 ("Topsy")
Mitsubishi L4M1 Type 0 ("Topsy")

---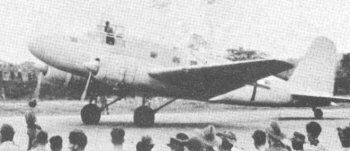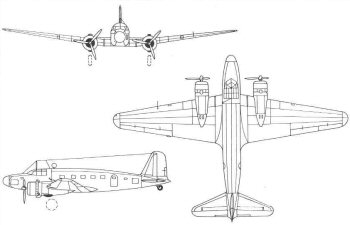 The Ki-57 was the standard Japanese army transport plane, and saw extensive duty during the war. A great many were also used by the Japanese civil airlines, under the designation MC-20. The navy also employed a limited number of these aircraft, known as the L4M1. The design came about when Mitsubishi was asked to build a commercial aircraft along the lines of the Ki-21 bomber. The aim was to have this civil aircraft have performance similar to the Ki-21, providing service on the airline's major routes. When the design attracted the interest of army authorities they took over the project, drawing up specifications that could satisfy both civil and military requirements. The end product had the wings, tail, cockpit, engines, and other features of the bomber, but with a different fuselage that could accommodate 11 passengers. Between July, 1940 and January 1945, a total of 507 aircraft of this type were built. They saw service on all fronts as paratroop and personnel carriers and as liaison and logistical support aircraft.
Mitsubishi Ki.57-II / L4M1 Type 0
Type:           Personnel transport
Service: 	Japanese Army Air Force (JAAF)
Crew:           crew of 4, plus 11 passengers
Armament:       none
Reference: 	Francillon: 182

Specifications:
        Length:         52' 9.8" (16.1 m)
        Height:         15' 11.3" (4.86 m)
        Wingspan:       74' 1.75" (22.6 m)
        Wing area:      754.332 sq. ft (70.08 sq. m)
        Empty Weight:   12313 lbs (5585 kg)
        Loaded Weight:  18018 lbs (8173 kg)
        Max Weight:     20106 lbs (9120 kg)

Propulsion:
        No. of Engines: 2
        Powerplant:     Mitsubishi Ha-102 14-cylinder radial engine
        Horsepower:     1050 hp each 

Performance:
        Range (max):    1865 miles (3000 km) 
        Cruise Speed:   n/a 
        Max Speed:      292 mph (470 km/h) at 19030 ft (5800 m)
        Climb to/in:    26,405 ft (5000 m) in 15 min 45 sec
        Ceiling:        26,250 ft (8000 m) 
Production:		507 Ki-57s total
Additional information on this aircraft can be found at Wikipedia HERE.

For a very nice scale color drawing of this aircraft, see here.
Additional color schemes for this aircraft can be found here.
If you don't see the table of contents at the left of your screen, CLICK HERE to see the rest of this website!