Autobiography
Page 6
LCDR James Ward Montgomery (he was later promoted to Rear Admiral) relieved me as Commanding Officer of the USS McCOY REYNOLDS. In March 1956 I relieved CDR Ward Griffith as the Ordnance Superintendent of the Pearl Harbor Naval Shipyard. We were assigned Shipyard quarters on Hospital Point, right on the edge of the main channel to Pearl Harbor; and we could watch all the ships going in and out of port. The house and yard were maintained by the Shipyard Public Works Department. There was a bar-b-que pit made from cinder blocks for which the shipyard provided the charcoal and when we had a party the shipyard would provide lighted luau torches. After we left, COMFOURTEEN took over the assignment and maintenance of all Navy housing on the Island.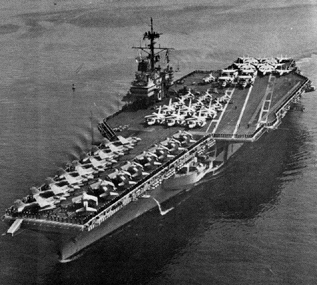 Attack carrier USS RANGER (CVA-61)
Returning to duty in the Pacific Fleet in August 1958, I relieved CDR Leon Grabouski as Gunnery Officer of the USS Ranger and served in that duty during her first deployment to the Western Pacific and the Seventh Fleet. One of my room mates from USNA, CDR Dick Madsen, was the Commanding Officer of the A3D Heavy Attack Squadron and he invited to take me up for a flight. I told him "No thanks, you cant t get me up in one of those flying coffins."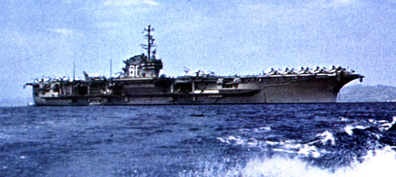 A color photo of the Ranger
Detached from RANGER in December 1959, I relieved CDR K.S. Irwin as the CO of the Destroyer Radar Picket USS HENRY W. TUCKER (DDR-875). The ship deployed to the Far East for operations in the SEVENTH FLEET, and was assigned the home port of Yokosuka, Japan. Ann came to Japan in an MSTS ship so that for once, I was the one standing on the dock when she arrived. We were assigned quarters on the Naval Base Yokosuka where we did not have to know very much Japanese language. I did not see much of Yokosuka as the TUCKER was sent to the Taiwan Straits to track and report all high flying fast planes that crossed the area.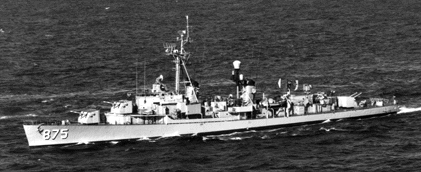 Destroyer Radar Picket USS HENRY W. TUCKER (DDR-875)
In September 1961 I reported to the Bureau of Naval Weapons, Washington, DC as Plans and Program Officer of the Surface Missile Project under the director RADM Eli T. Rich. He was one of the most junior RADMs who was picked to get the three "Ts" well. The Terrier, Tartar and Tabs programs were having technical problems in their development. I liked working for him --- he would chew you out good and proper for something he thought I should have done, but didn't --- and his admonitions were always delivered in private. In his next breath he would heap high praise on me for doing what he intended, but these praises were always made in public. Thus everyone who worked for him, paid careful attention to what he wanted from us!
While at the Bureau, I was selected for promotion to CAPTAIN. Of those COMMANDERS in the promotion zone, the following specialties were selected; 1100 - 53%, 1300 - 29%, ORD PG - 85%, DES QUAL -85%, USNA - 58%. I had all the qualifications except 1300 (Aviation) and those Officers with my qualifications had a selection percentage of 100%.!!!
I next relieved CAPTAIN Van Eason as Commanding Officer of the ammunition ship USS PARICUTIN (AE-18) in Concord, California and a month later deployed to the Western Pacific for seven months. After a return to the Continental United States for two and one-half months, the ship again deployed to the Far East in support of the Seventh Fleet's operations off Vietnam. We in PARICUTIN developed the plan and procedure for the vertical replenishment of Nuclear Weapons at sea --- and had the first such operation as a demonstration for all to follow.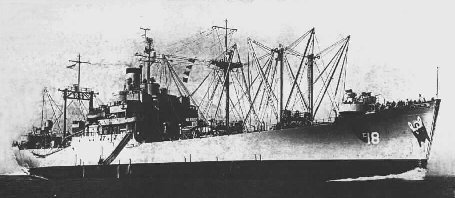 Ammunition ship USS PARICUTIN (AE-18)
Having served in three ships in the Pacific, I have been to a lot of places, some of which are: Pearl Harbor, Utirik Atoll, Marshall Islands, Eniwetok, Holandia, New Guinea, Truk, Satawan, Marcus, Wake, Guam, Rota, Iwo Jima, Chichi Jima, Hochi Jimi, Pagan Island, Palau, Woleai, Yap, Ulithi, Mindanao, Visayan Islands, Philippine Islands, Manila Bay, Clark Field, Nichols Field, Celebes Islands, Morotai Islands, Luzon, Okinawa, Formosa, Philippine Sea, Subic Bay, Lingayen Gulf, Leyte, Cebu, Taurane, Kure Kobe, Hamamatsu, Hananatsu, Kamiashi, Tokyo Bay, Manus, Admiralty Islands, Majuro and some I do not remember.