Autobiography
Page 7
In August 1965 I relieved CAPT A.H. Galvani as Commanding Officer of the Naval Ammunition Depot, McAlester, Oklahoma. My tour of duty at McAlester was very enjoyable and rewarding. Although communication systems connected me directly with my bosses: COMEIGHT in New Orleans was my administrative commander and CHIEF OF THE BUREAU OF NAVAL WEAPONS in Washington D.C. was my management and operational commander. I was a big fish in a pool all to myself. The Depot was the single largest employer in south-east Oklahoma and as such I was involved in all activities in that part of the state. I was a good guy, because during my tour as CO, the Depot was hiring people from the community to make bombs, bullets and rockets.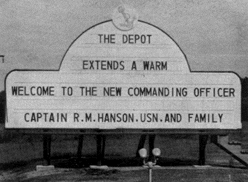 Marquee at the entrance to USNAD
We had a female "non" discrimination case --- one of my supervisors came to me with what he thought was a problem. Almost all of the females hired were placed in secretarial positions but those positions were all filled. A two hundred pound farmer's wife applied for a job, and my advice to the supervisor was to test her the same as we did for all males. They had to be able to read and understand explosive warning signs and to pass a strength test. She easily passed the reading test. The strength test consisted of lifting a seventy pound bale of hay from the floor to the top of a table which was waist high. She lifted that bale to the table top with one hand easily. The supervisor said "You are hired - report for work tomorrow" END OF PROBLEM!!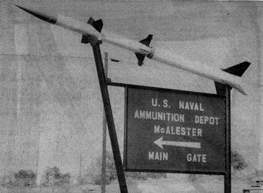 Terrier missile gate guardian on Route 69 (USNAD McAlester)
While I was in command of the NAD, the Governor of Oklahoma, Dewey Bartlett proclaimed February 23, 1970 as "CAPTAIN RALPH M. HANSON day" in Oklahoma for my services to the state. Major General Lavern Webber of the Oklahoma National Guard presented me with the Oklahoma Meritorious Medal for services rendered to the state and to the Oklahoma National Guard.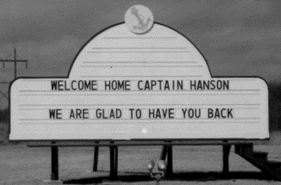 NAD at McAlester was the repository and control organization for all nuclear weapon publications of the Navy, all of which were highly classified.
In March 1970, I relieved CAPT Stan Montunas as the Commander of the NUCLEAR WEAPONS TRAINING GROUP, PACIFIC at the Naval Air Station, North Island, San Diego, California. The Bureau of Naval Weapons designated me a Naval Ordnance Engineer. NWTGP provided all the Nuclear Weapons inspection and training to the PAC Fleet units with a nuclear capability. On July 1, 1972, I was transferred to the Retired List after thirty years of active commissioned service.
I have been awarded the Meritorious Service Medal; American Defense Service Medal, Fleet Clasp; American Campaign Medal; Asiatic-Pacific Campaign Medal (nine operations); World War II Victory Medal; Navy Occupation Service Medal; China Service Medal (Extended); National Defense Service Medal (two awards); Armed Forces Expeditionary Medal; Vietnam Service Medal; Philippine Liberation Ribbon (two operations); the Philippine Presidential Unit Citation; and the Oklahoma Meritorious Medal.
I have held or have qualified for the following duties: OOD, Division Officer, Turret Officer, Main Battery Spotting Officer, Gunnery Officer, Department Head, First Lieutenant, Communications Officer, Operations Officer, Executive Officer, Navigator, Commanding Officer (DE, DDR, AE afloat and Shore Station), Weapons Installation and Repair Superintendent, Naval Ordnance Engineer, Weapons Plans and Programs Director, Manager Industrial Organization, Surface Warfare Officer, Surface Missile System Planning Officer, Security Officer, and Program Manager.
My civilian life after retirement consisted of two terms at Community College, two years as Maintenance Director of the "Hall Of Champions" Museum in Balboa Park, followed by maintenance work (house, yard, automobile, and neighborhood projects). When I left the Hall Of Champions I was given a Breitbard Athletic Award and Shield inscribed as follows:
RALPH "SWEDE" HANSON
HE APPLIED HIS MANY TALENTS, FORESIGHT AND WISDOM TO PLANS FOR THE NEW HALL, SUPERVISION OF THE MOVE, AND REOPENING IN THE NEW LOCATION. HIS INGENUITY AND TALENT IN REPAIRING AND MAINTAINING EQUIPMENT HAVE CONTINUED TO PRODUCE LARGE COST SAVINGS.
WITH GRATEFUL APPRECIATION
THE BOARD OF TRUSTEES, SAN DIEGO HALL OF CHAMPIONS - 1985.
(This is the end of the autobiography written by Ralph in 1998.)
EPILOGUE (by the webmaster) :
Ralph passed away at Paradise Valley Hospital in National City, CA. on January 27, 2002. His wife Ann passed away several years later. He is survived by his daughter Karen, by his son Tom, by his son David , and by his granddaughter Amy.