Beechcraft AT-10 Wichita
---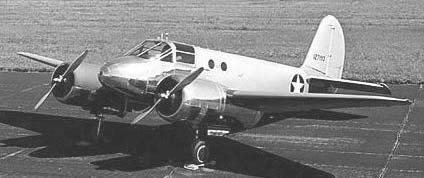 The Beech Aircraft Corporation's Model 18 was a successful design that was used in a various configurations, such as the AT-7 and the AT-11. A less well known variant of the twin Beech design was the AT-10 Wichita, which was a version of the AT-7 constructed mostly of wood and using lighter and less powerful engines. The design resulted from the fear that supplies of some strategic light metals could be halted by the war, so aircraft may need to have been built from natural supplies. Initially referred to as the Beech Model 26, the AT-10 was given the nickname Wichita, and used as an advanced trainer. Beech Aircraft built 1,771 AT-10s during the war, with Globe Aircraft Corporation producing another 600 examples. Final deliveries were made on September 15, 1943.
Additional information on this aircraft can be found at Wikipedia here.
(updated February 2009)



AT-10 Wichita
Type:		Advanced Trainer
Crew:		2
Armament:	none

Specifications:
	Length:        	34' 4" (10.46 m)
	Height:        	n/a
	Wingspan:      	44' 0" (13.41 m)
	Wing area:	298 sq. ft. (27.68 sq. m)
	Empty Weight:  	4750 lb. (2155 kg)
	Max Weight: 	6130 lb. (2781 kg)

Propulsion:
	No. of Engines:	2
	Powerplant:    	Lycoming R-680-9 radial engines
	Horsepower:	295 hp

Performance:
	Range:		770 miles (1239 km)
	Cruise Speed:   n/a
	Max Speed:      198 mph (319 km/h)
	Ceiling:       	16,900 ft. (5150m)


If this page does not have a navigational frame on the left, click HERE to see the rest of the website.