Bell XFL-1 Airabonita
---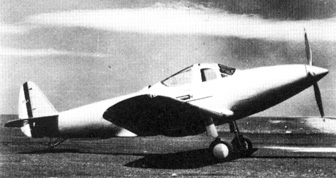 On November 8, 1938 the U.S. Navy placed a contract with the Bell Aircraft Corporation for a single prototype of the company's Model 12 fighter (which was developed for the Army Air Corps as the XP-39). The Navy was not yet ready to consider the use of aircraft with tricycle-landing gear (such as was found on the XP-39) on its aircraft carriers, and the prototype (designated the XFL-1) was therefore to have a tailwheel undercarriage. Other changes included the use of underwing radiators, installation of an arrestor hook, enlarged vertical surfaces and restressing of the airframe for carrier operations. First flight of the XFL-1 took place on May 13, 1940. Problems with the Allison engine delayed delivery of the Airabonita to the U.S. Navy until February 1941, and then undercarriage trouble caused the aircraft to fail its carrier qualification trials. By December 1941, the XFL-1 was back with Bell in New York for modifications, but Navy interest in the type waned quickly after the start of the war and further development of the type was cancelled.
For more data on this aircraft, click here for Joe Baugher's webpage.
Additional information on this aircraft can be found at Wikipedia here.
(updated February 2009)

Bell XFL-1 Airabonita
Type:           single-seat fighter
Crew:           1
Armament:       one 37mm cannon (or one .50 cal MG) plus
                two .30 cal machine guns

Specifications:
        Length:         29' 9&7/8" (9.09 m)
        Height:         12' 9" (3.91 m)
        Wingspan:       35' 0" (10.68 m)
        Wing area:      232 sq. ft (21.57 sq. m)
        Weight empty:   5161 lb (2343 kg)
        Weight max:     7212 lb (3274 kg) max at takeoff

Propulsion:
        No. of Engines: 1
        Powerplant:     Allison XV-1710-6 12-cylinder Vee
			liquid-cooled inline
        Horsepower:     1,150 hp

Performance:
        Cruise Speed:   296 mph (476 km/h)
        Max speed:      336 mph (541 km/h) at 10,000 ft.
        Ceiling:        30,900 ft. (9425 m)
        Range:          1072 miles (1725 km)


Information from "US Navy and Marine Corps Fighters"
by William Green and Gordon Swanborough
(made available by San Diego Aerospace Museum library)

If this page does not have a navigational frame on the left, click HERE to see the rest of the website.