Grumman TBF/TBM Avenger
---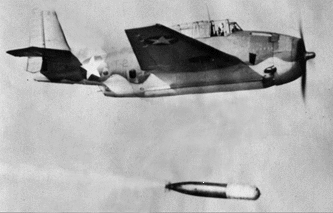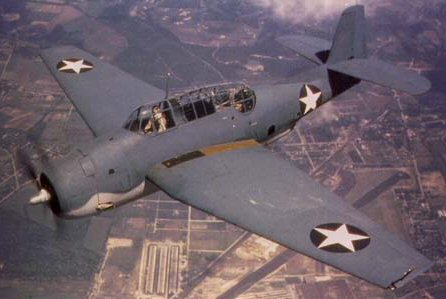 The Avenger replaced the TBD Devastator as the torpedo plane used by the U.S. Navy. It saw its first combat at the battle of Midway, but it wasn't until later battles that it made its mark in history. It could attack with either a torpedo or standard bombs. Distinguishing characteristics include a long internal torpedo bay and a revolving turret for a rear-facing gunner. Many Avengers were manufactured by General Motors Eastern Aircraft Division under the designation TBM Avenger.
For additional data and history on the TBF, click here for Jack McKillop's article on Microworks.net.
For more photos of this aircraft, visit my Naval Air War In the Pacific website.
To see books about this aircraft on Amazon.com, click here.
Additional information on this aircraft can be found at Wikipedia here.
(updated February 2009)

Grumman TBF-1 Avenger
Type:           Torpedo Bomber
Crew:           3 (pilot, bomb-aimer, radio operator/gunner)
Armament:       two wing-mounted .50 cal machine guns
                one .50 cal machine gun in dorsal turret
                one .30 cal machine gun in ventral position
                up to 2000 lbs. of weapons (bombs/torpedo)

Specifications:
        Length:         40' 11" (12.47 m)
        Height:         16' 5" (5.00 m)
        Wignspan:       54' 2" (16.51 m)
        Wingarea:       490.02 sq. ft (45.52 sq. m)
        Empty Weight:   10545 lb (4782 kg)
        Gross Weight:   17893 lb (8115 kg)
        Max Weight:     17895 lb (8115 kg)

Propulsion:
        No. of Engines: 1
        Powerplant:     Wright R-2600-20
        Horsepower:     1900 hp

Performance:
        Range:          1010 miles (1626 km)
        Cruise Speed:   147 mph ( 236 km/h)
        Max Speed:      276 mph ( 444 km/h)
        Climb:          2060 ft/min ( 627.86 m/min)
        Ceiling:        30100 ft (9174.00M)
---
CLICK HERE TO SEE BOOKS ON THE AVENGER ON AMAZON.COM
If this page does not have a navigational frame on the left, click HERE to see the rest of the website.