Douglas TBD Devastator
---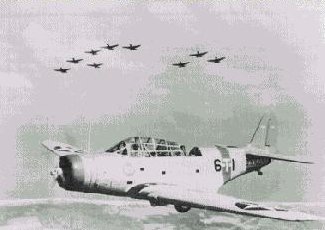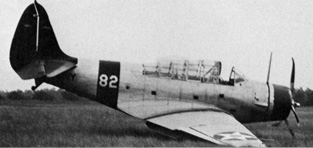 When it was delivered to the US Navy in 1937, the Devastator was the most advanced torpedo bomber in the world. A mere four years later, however, the TBD was practically obsolete, a fact which became painfully obvious when all 35 Devastators sent against the Japanese at the battle of Midway were shot down without hitting their targets. Luckily its replacement (the Grumman TBF Avenger) was coming on line at that time, and soon all Devastators were withdrawn from front-line service. 130 built.
For more data and photos on this aircraft, click here for the Naval Historical Center webpage.
For additional data and history on the TBD, click here for Jack McKillop's article on Microworks.net.
For more photos of this aircraft, visit my Naval Air War In the Pacific website.
Additional information on this aircraft can be found at Wikipedia here.
(updated February 2009)

Douglas TBD-1 Devastator
Type:           Torpedo bomber
Crew:           2, Pilot and observer/rear gunner
Armament:       one .30 cal machine gun firing forward,
                one .30 cal machine gun in rear cockpit,
                one torpedo, or one 1000 lb. bomb

Specifications:
        Length:         35' 0" (10.67 m)
        Height:         15' 1" (4.60 m)
        Wingspan:       50' 0" (15.24 m)
        Wing area:      422 sq. ft (39.2 sq. m)
        Empty Weight:   5600 lbs (2539 kg)
        Gross Weight:   10194 lbs (4623 kg)

Propulsion:
        No. of Engines: 1
        Powerplant:     Pratt & Whitney R-1830-64
        Horsepower:     900 hp

Performance:
        Range:          716 miles (1152 km)
        Cruise Speed:   128 mph (206 km/hr)
        Max Speed:      206 mph (331 km/hr)
        Climb:          720 ft/min (219.45 m/min)
        Ceiling:        19500 ft (5943.3 m)


If this page does not have a navigational frame on the left, click HERE to see the rest of the website.