Martin 187 (A-30) Baltimore
---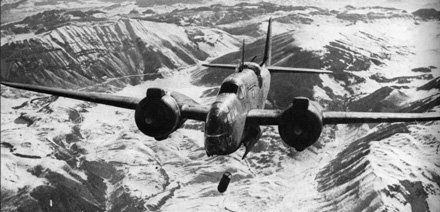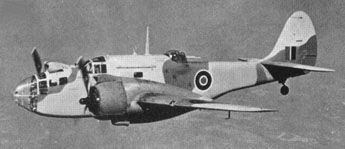 The Martin Baltimore was developed from its predecessor the Martin 167 Maryland to meet specific British requirements. It was used with distinction by a number of Allied air forces in Europe, and was liked by its pilots for its superior performance and great structural strength. One drawback that it shared with the Maryland was the very narrow fuselage, which made it virtually impossible for crew members to change position in flight if injured.
USAF archives on this aircraft, click here.
Additional information on this aircraft can be found at Wikipedia here.
(updated February 2009)

Martin A-30 Baltimore
Type:		twin-engined light bomber
Crew:		4
Armament: 	four .303 inch machine guns in wings
		2-4 .303 inch machine guns in dorsal turret
		two .30 inch machine guns in ventral position
		up to 2,000 lbs. of bombs


Specifications:
	Length:        	48' 5.75" (14.78 m)
	Height:        	17' 9" (5.41 m)
	Wingspan:      	61' 4" (18.69 m)
	Wing area:	538.5 sq. ft (50.03 sq. m)
	Empty Weight:  	15,460 lb (7013 kg)
	Max Weight: 	22,600 lb (10,521 kg) max at takeoff

Propulsion:
	No. of Engines:	2
	Powerplant:    	Wright GR-2600-A5B Cyclone 14 radial
	Horsepower:	1660 hp each

Performance:
	Range:		1082 miles (1741 km)
	Cruise Speed:   225 mph ( 362 km/h)
	Max Speed:      305 mph ( 491 km/h) at 11,500 ft
	Ceiling:       	23,300 ft (7100 m)


If this page does not have a navigational frame on the left, click HERE to see the rest of the website.