Martin XA-22 / Model 167 "Maryland"
---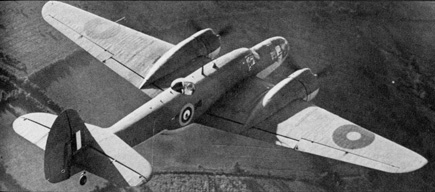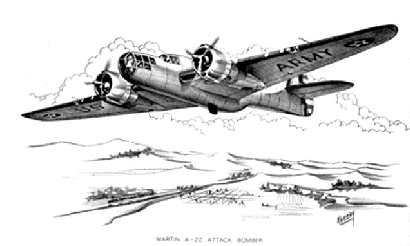 Designed as an attack bomber in 1938, the Martin XA-22 failed to win any production contracts with the USAAF. In 1939 Martin looked for buyers overseas, and under the designation Model 167 (named the Maryland) sales were made to Britain, France, and South Africa. The Maryland found its purpose not as an attack bomber, though, but rather as a medium-range high-speed reconnaissance aircraft. It performed these duties well, until it was replaced by more advanced types (like the Martin Baltimore).
For more data on this aircraft, click here for Joe Baugher's webpage.
USAF archives on this aircraft, click here.
Additional information on this aircraft can be found at Wikipedia here.
(updated February 2009)

Martin XA-22 / 167 Maryland
Type:		reconnaissance/bomber aircraft
Crew:		3
Armament: 	four .30 inch machine guns in wings
		two .303 inch machine guns (1 in ventral
			and 1 in dorsal gun position)
		up to 2,000 lbs. of bombs

Specifications:
	Length:        	46' 8" (14.22 m)
	Height:        	14' 11.75" (4.57 m)
	Wingspan:      	61' 4" (18.69 m)
	Wing area:	538.5 sq. ft (50.03 sq. m)
	Empty Weight:  	11,213 lb (5086 kg)
	Max Weight: 	16,809 lb (7624 kg) max at takeoff

Propulsion:
	No. of Engines:	2
	Powerplant:    	Pratt & Whitney R-1830-SC3G Twin Wasp radial
	Horsepower:	1050 hp each

Performance:
	Range:		1300 miles (2092 km)
	Cruise Speed:   248 mph ( 399 km/h)
	Max Speed:      304 mph ( 489 km/h) at 13,000 ft
	Ceiling:       	29,500 ft (8990 m)


If this page does not have a navigational frame on the left, click HERE to see the rest of the website.