Grumman F8F Bearcat
---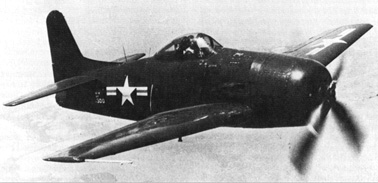 The Bearcat was designed as an interceptor fighter, with emphasis placed on excellent maneuverability, good low-level performance, and a high rate of climb. It used the same engine as its predecessor the Hellcat, but being smaller and 20% lighter, had a 30% better climb rate than the Hellcat. Its first flight was in August 1944, and while the first squadron of Bearcats was heading for the Pacific, the war ended before this excellent fighter could see operational use.
Additional information on this aircraft can be found at Wikipedia here.
(updated February 2009)

Grumman F8F-1 Bearcat

Type:           Fighter
Crew:           Pilot
Armament:       four 20mm cannon

Specifications:
        Length:         27' 6" (8.38 m)
        Height:         13' 8" (4.17 m)
        Wingspan:       36' 6" (11.12 m)
        Wing area:      244  sq. ft (22.67 sq.  m)
        Empty Weight:   7070lbs (3206 kg)
        Gross Weight:   9386lbs (5871 kg)
        Max Weight:     12947lbs (5871 kg)

Propulsion:
        No. of Engines: 1
        Powerplant:     Pratt & Whitney R-2800-34W
        Horsepower:     2100 hp

Performance:
        Range:          1105 miles (1779 km)
        Cruise Speed:   163 mph (262 km/hr)
        Max Speed:      434 mph (698 km/hr)
        Climb:          4570 ft/min (1392.87 m/min)
        Ceiling:        38900 ft (11856 m)


If this page does not have a navigational frame on the left, click HERE to see the rest of the website.