Waco CG-13A
---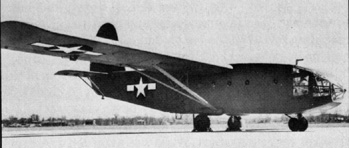 The Waco CG-13A assault glider could carry up to 42 troops or an equivalent weight of cargo. It was developed as a glider based on the CG-4A, but with double the capacity. Orders began in 1943, with 132 being made by Ford and Northwestern and delivered through 1945.
Additional information on this aircraft can be found at Wikipedia here.
(updated February 2009)


Waco CG-13A

Type:		troop-carrying glider
Crew:		30-42 troops
Armament:	none

Specifications:
	Length:        	54' 4" (16.56 m)
	Height:        	20' 3" (6.17 m)
	Wingspan:      	85' 8" (26.11 m)
	Wing area:	873 sq. ft (81.10 sq. m)
	Empty Weight:  	8700 lb (3946 kg)
	Max Weight: 	18,900 lb (8573 kg) max at takeoff

Performance:
	Max towing speed: 190 mph ( 306 km/h)
	landing speed:    80 mph ( 129 km/h)


If this page does not have a navigational frame on the left, click HERE to see the rest of the website.