Curtiss C-46 Commando
also: R5C
---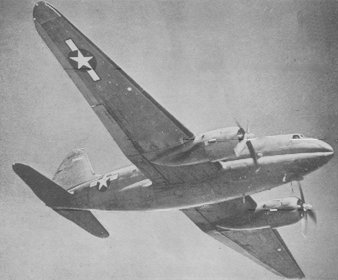 The Curtiss C-46 Commando served a similar role as its contemporary the Douglas C-47 Skytrain, but was not quite as famous or as heavily produced. The Navy/USMC version was known as the R5C.
For additional data and history on the C-46, click here for an English page on a Chezh aircraft site.
For additional data and history on the R5C, click here for Jack McKillop's article on Microworks.net.
USAF archives on this aircraft, click here.
Additional information on this aircraft can be found at Wikipedia here.
(updated February 2009)

Curtiss C-46 Commando
Type:           54 seat military transport and troop carrier
Crew:           3, Pilot, co-pilot, radio operator
Armament:       none

Specifications:
        Length:         76' 4" (23.27 m)
        Height:         21' 9" (6.63 m)
        Wingspan:       108' 1" (32.94 m)
        Wing area:      1360 sq. ft (126.34 sq. m)
        Empty Weight:   32,400 lb (14,696 kg)
        Max Weight:     56,000 lb (25,401) max at takeoff

Propulsion:
        No. of Engines: 2
        Powerplant:     Pratt & Whitney R-2800-51 Double Wasp radial
        Horsepower:     2000 hp each

Performance:
        Range:          1200 miles (1931 km)
        Cruise Speed:   183 mph ( 295 km/h)
        Max Speed:      269 mph ( 433 km/h) at 15,000 ft
        Ceiling:        27,6000 ft (8410 m)


If this page does not have a navigational frame on the left, click HERE to see the rest of the website.