Consolidated B-32 Dominator
---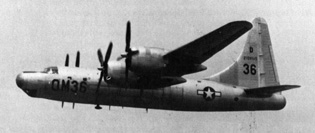 The Dominator was designed by Consolidated to meet an Air Force specification that also resulted in the competing Boeing B-29 Superfortress. Each company won contracts to produce aircraft, but Consolidated ran into problems with the B-32 development. Like the B-29, the B-32 had pressurized crew compartments and remotely-controlled gun turrets. When the production examples of the B-32 were delivered in November 1944, however, these two features had been deleted from the aircraft. Only 15 aircraft were to become operational before VJ-Day (plus another 40 training examples), but at the end of the war all versions were very soon withdrawn from service.
For more data on this aircraft, click here for Joe Baugher's webpage.
USAF archives on this aircraft, click here.
Additional information on this aircraft can be found at Wikipedia here.
(updated February 2009)

Consolidated B-32 Dominator
Type:		long range strategic bomber
Crew:		8
Armament: 	two 20mm cannon (one in nose, one in tail)
		four .50 cal machine guns
		up to 20,000 lbs. of bombs

Specifications:
	Length:        	83' 1" (25.32 m)
	Height:        	33' 0" (10.06 m)
	Wingspan:      	135' 0" (41.15 m)
	Wing area:	1422 sq. ft (132.10 sq. m)
	Empty Weight:  	60,272 lb (27,229 kg)
	Max Weight: 	111,500 lb (50,576 kg) max at takeoff

Propulsion:
	No. of Engines:	4
	Powerplant:    	Wright R-3350-23 Cyclone radial
	Horsepower:	2200 hp each

Performance:
	Range w/max bombload: 	800 miles (1287 km)
	Max Range: 	3800 miles (6115 km)
	Cruise Speed:   (not listed)
	Max Speed:      357 mph ( 575 km/h) at 25000 ft
	Ceiling:       	35,000 ft (10,760 m)


If this page does not have a navigational frame on the left, click HERE to see the rest of the website.