Curtis-Wright P-60
---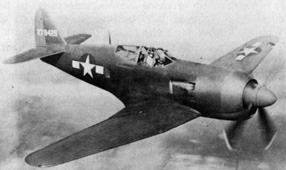 The P-60 began in 1940 as a design meant to be an improved version of the Curtiss P-40. Given the designation XP-53, the type was changed to XP-60 when the powerplant was replaced with the Rolls Royce Merlin engine. Due to the short supply of Packard-built Merlins, the aircraft was developed with five other engines, each in its own prototype. Testing of certain XP-60s continued into 1944, but the results were disappointing, and the US Army abandoned all interest.
For more data on this aircraft, click here for Joe Baugher's webpage.
USAF archives on this aircraft, click here.
(updated February 2009)

Curtis-Wright P-60

Type:           single seat interceptor fighter
Crew:           1: Pilot
Armament:       four .50 cal machine guns in wings

Specifications:
        Length:         33' 11" (10.34 m)
        Height:         12' 4.25" (3.77 m)
        Wingspan:       41' 3.75" (12.59 m)
        Wing area:      275.15 sq. ft (25.56 sq. m)
        Empty Weight:   8698 lb (3945 kg)
        Max Weight:     10,785 lb (4892 kg) max at takeoff

Propulsion:
        No. of Engines: 1
        Powerplant:     Pratt & Whitney R-2800-53 Double Wasp radial
        Horsepower:     2000 hp

Performance:
        Range:          315 miles (507 km)
        Cruise Speed:   N/A
        Max Speed:      414 mph ( 666 km/h) at 20,350 ft
        Ceiling:        37,900 ft (11,550 m)


If this page does not have a navigational frame on the left, click HERE to see the rest of the website.