Curtiss P-36 Hawk
---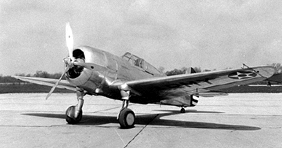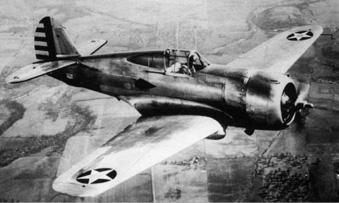 First known as the Curtiss Model 75, the Hawk was the predecessor to the Curtiss P-40. By the beginning of WWII the P-36 was already considered obsolete. Circumstances compelled limited use of P-36s in the opening stages of hostilities with Japan, but they were very soon relegated for use as a second-line aircraft in the training role.
For more data on this aircraft, click here for Joe Baugher's webpage.
USAF archives on this aircraft, click here.
Additional information on this aircraft can be found at Wikipedia here.
(updated February 2009)

Curtiss P-36A Hawk

Type:           Fighter
Crew:           1, Pilot
Armament:       one .50 cal machine gun, three .30 cal machine guns

Specifications:
        Length:         28' 6" (8.69M)
        Height:         8' 5" (2.57M)
        Wignspan:       37' 4" (11.38M)
        Gross Weight:   5650.00lbs

 Propulsion
        No. of Engines: 1
        Powerplant:     Pratt & Whitney R-1830
        Horsepower:     1050 hp

 Performance:
        Range:          830 miles (1336.00 Km)
        Cruise Speed:   250.00 mph (402.00 Km/H)
        Max Speed:      313.00 Mph (504.00 Km/H)
        Ceiling:        37200.0 Ft (11338.0M)

If this page does not have a navigational frame on the left, click HERE to see the rest of the website.