North American P-82 Twin Mustang
---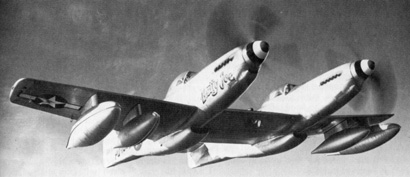 The P-82 came about as a result of a USAAF requirement for a very long range escort fighter for operations in the Pacific, especially to escort the B-29s all the way to Japan and back. The purpose of having two pilots was as a relief against fatigue on the long overwater missions. Only 20 of the 500 ordered had been built before the war's end brought a cancellation to the contracts, but 250 more were built in 1946. Part of this order was for a night fighter version (with a radar operator instead of a second pilot) which was made to replace the Northrop P-61 Black Widow. The P-82 was renamed the F-82 in 1948, and a U.S. F-82 shot down the first enemy aircraft of the Korean War.
For more data on this aircraft, click here for Joe Baugher's webpage.
USAF archives on the F-82 (same aircraft), click here.
Additional information on this aircraft can be found at Wikipedia here.
(updated February 2009)

North American P-82 Twin Mustang

Type:           Fighter
Crew:           2, Pilot, co-pilot/radar operator
Armament:       six.50 cal machine guns

Specifications:
        Length:         42' 5" (12.93 m)
        Height:         13' 10" (4.22 m)
        Wing span:      51' 3" (15.62 m)
        Wing area:      408  sq. ft (37.90 sq. m)
        Empty Weight:   15,997 lbs (7256 kg)
        Takeoff Weight: 25,591 lbs (11,608 kg) maximum

Propulsion:
        No. of Engines: 2
        Powerplant:     Allison V-1710-143/145 inline
        Horsepower:     1600 hp each

Performance:
        Range:          2240 miles (3605 km)
        Cruise Speed:   286 mph (460 km/hr)
        Max Speed:      461 mph (762 km/hr) at 21,000 ft.
        Ceiling:        38,900 ft (11,855 m)

If this page does not have a navigational frame on the left, click HERE to see the rest of the website.