Curtiss SBC Helldiver
---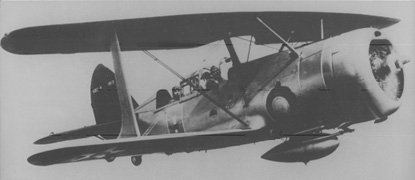 The SBC Helldiver was the last combat biplane to be produced by the United States. This dive bomber entered service in 1937 and still flew with front-line units at the beginning of the war, although it was withdrawn soon afterwards. It was replaced by the Douglas SBD Dauntless, which in turn was replaced by another (later) Curtiss Helldiver.
Click here to see a book on this aircraft on Amazon.com
Additional information on this aircraft can be found at Wikipedia here.
(updated February 2009)

Curtiss SBC Helldiver
Type:		two-seat carrier-based scout bomber
Crew:		2: Pilot, Gunner
Armament: 	one .30 cal forward firing machine gun
		one .30 cal machine gun in rear cockpit
		one 500 lb. or 1000 lb. bomb

Specifications:
	Length:        	28' 4" (8.64 m)
	Height:        	12' 7" (3.84 m)
	Wingspan:      	34' 0" (10.36 m)
	Wing area:	317 sq. ft (29.45 sq. m)
	Empty Weight:  	4841 lb (2196 kg)
	Max Weight: 	7632 lb (3462 kg) max at takeoff

Propulsion:
	No. of Engines:	1
	Powerplant:    	Wright R-1820-34 Cyclone radial
	Horsepower:	950 hp

Performance:
	Range:		590 miles (950 km) w/ 500 lb. bomb load
	Cruise Speed:   127 mph ( 204 km/h)
	Max Speed:      237 mph ( 381 km/h) at 15,200 ft
	Ceiling:       	27,300 ft (8320 m)


If this page does not have a navigational frame on the left, click HERE to see the rest of the website.