Curtiss SO3C Seamew
---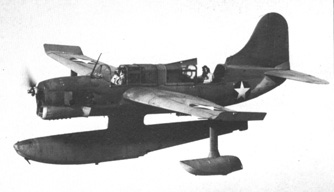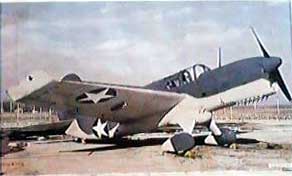 The SO3C Seamew was a seaplane that was ordered as a replacement for the SOC Seagull aboard the U.S. Navy's battleships and cruisers. The type went into service in 1942, but was not a success and all Seamews were withdrawn early in 1944. Note: the second picture shows the lesser-known non-seaplane version.
Additional information on this aircraft can be found at Wikipedia here.
(updated February 2009)

Curtiss SO3C Seamew

Type:		scout/observation aircraft
Crew:		2: Pilot, observer/gunner
Armament: 	one .30 cal forward firing machine gun
		one .50 cal rear firing machine gun
		two 100 lb.bombs, or 325 lb. depth charges

Specifications:
	Length:        	36' 10" (11.23 m)
	Height:        	15' 0" (4.57 m)
	Wingspan:      	38' 0" (11.58 m)
	Wing area:	290 sq. ft (26.98 sq. m)
	Empty Weight:  	4284 lb (1943 kg)
	Max Weight: 	5729 lb (2599 kg) max at takeoff

Propulsion:
	No. of Engines:	1
	Powerplant:    	Ranger SGV-770-8 inline
	Horsepower:	600 hp

Performance:
	Range:		1150 miles (1851 km)
	Cruise Speed:   125 mph ( 201 km/h)
	Max Speed:      172 mph ( 277 km/h) at 8100 ft
	Ceiling:       	15,800 ft (4815 m)


If this page does not have a navigational frame on the left, click HERE to see the rest of the website.