Douglas C-54 / R5D Skymaster
---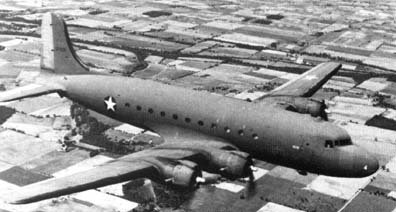 Like its stable mate the DC-3/C-47 Skytrain, the C-54 Skymaster was derived from the prototype of a civilian airliner (the DC-4). C-54s began service with the USAAC in 1942, carrying up to 26 passengers. (Later versions carried up to 49 passengers.) The U.S. Navy also acquired the type, under the designation R5D. The C-54/R5D was one of the most commonly used transports by the U.S. armed forces in World War II.
For more data on the R5D, click here for Jack McKillop's article on Microworks.net.
Additional information on this aircraft can be found at Wikipedia here.
(updated February 2009)

Douglas C-54 Skymaster

Type:		cargo and passenger transport
Crew:		6
Armament: 	none

Specifications:
	Length:        	93' 11" (28.63 m)
	Height:        	27' 6.25" (8.39 m)
	Wingspan:      	117' 6" (35.81 m)
	Wing area:	1463 sq. ft (135.91 sq. m)
	Empty Weight:  	38,000 lb (17,237 kg)
	Max Weight: 	73,000 lb (33,112 kg) max at takeoff

Propulsion:
	No. of Engines:	4

	Powerplant:    	Pratt & Whitney R-2000-7 radial
	Horsepower:	1350 hp each

Performance:
	Range:		3900 miles (6276 km)
	Cruise Speed:   239 mph ( 385 km/h)
	Max Speed:      274 mph ( 441 km/h) at 14,000 ft
	Ceiling:       	22,000 ft (6705 m)


If this page does not have a navigational frame on the left, click HERE to see the rest of the website.