Douglas XB-19A
---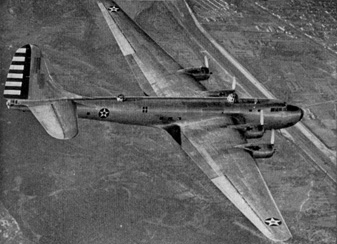 In 1934 the USAAC issued a specification for a long-range bomber that could be used to defend America's coastlines, as well as far-off outposts in Alaska, Hawaii, and Panama. Boeing responded with a prototype called the XBLR-1 (later the XB-15), and Douglas responded with the XBLR-2 (later designated the XB-19). When completed the XB-19 was then the largest aircraft built, with accommodation for a crew of ten and a bombload of 36,000 pounds. It flew for the first time on June 27, 1941. Unfortunately the four Wright R-3350-5 Cyclone engines that were in the prototype made the aircraft underpowered for the duty required of it, and it had to wait for the availability of more powerful engines. When these eventually materialized, the requirement had changed, and the Douglas giant was provided instead with four Allison engines. It was then operated in a transport role during WWII under the designation XB-19A.
For more data on this aircraft, click here for Joe Baugher's webpage.
USAF archives on this aircraft, click here.
Additional information on this aircraft can be found at Wikipedia here.
(updated February 2009)

Douglas XB-19A

Type:           Long-range heavy bomber prototype
Crew:           10
Armament:       two 37mm cannon
                five 0.50-in. machine guns
                six 0.30-in. machine guns
                up to 36,000 lb of bombs

Specifications:
        Length:         132' 0" (40.23 m)
        Height:         42' 9" (13.03 m)
        Wingspan:       212' 0" (64.62 m)
        Wing area:      4492 sq. ft (417.31 sq. m)
        Empty Weight:   82,253 lb (37,309 kg)
        Max Weight:     164,000 lb (74,389 kg) max at takeoff

Propulsion:
        No. of Engines: 4
        Powerplant:     Allison V-3420-11 inline engines
        Horsepower:     2600 hp each

Performance:
        Range:          7750 miles (12,472 km)
        Cruise Speed:   186 mph ( 299 km/h)
        Max Speed:      209 mph ( 336 km/h)
        Ceiling:        22,000 ft (6705 m)


If this page does not have a navigational frame on the left, click HERE to see the rest of the website.