Curtiss XP-46
---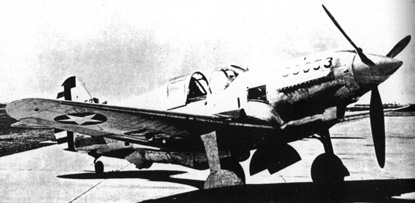 The Curtiss XP-46 was designed as a possible successor to the Curtiss P-40,from which it was developed. Among the noticeable ways in which the XP-46 differed from the P-40 was the inwardly-retracting flush landing gear, a lower cockpit canopy, and a ventral ducted radiator located beneath the cockpit. Only two prototypes were built and tests with this design did not justify further development.
For more data on this aircraft, click here for Joe Baugher's webpage.
USAF archives on this aircraft, click here.
Additional information on this aircraft can be found at Wikipedia here.
(updated February 2009)

Curtiss XP-46

Type:           single-seat fighter
Crew:           1
Armament:       two .50 cal machine guns in the nose
                eight .30 cal machine guns in the wings

Specifications:

                (Check back in the future for the specs)


If this page does not have a navigational frame on the left, click HERE to see the rest of the website.