Kawasaki Ki.66

---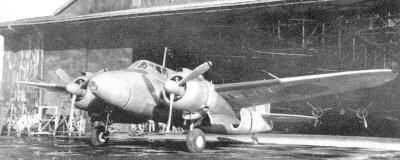 This aircraft was designed by Kawasaki to meet an Army specification for a twin-engined aircraft intended especially for dive-bombing attacks in support of land forces. Drawing heavily on experience acquired in designing the twin-engined Ki-45 heavy fighter and the Ki-48 light bomber, the project moved forward at Kawasaki in late 1941. Only six prototypes were completed between October 1942 and April 1943, and despite successfully completing its flight test program, it was decided that the Ki-66 was only marginally superior to the Ki-48 which was already in production. All further work was suspended by October 1943.
Kawasaki Ki.66-Ib
Type:           Army experimental dive bomber
Service: 	Japanese Army Air Force (JAAF)
Crew:           2 (Pilot and gunner)
Armament:       two 12.7 mm Ho-103 machine guns in the nose
		one rear-firing 7.7 mm Type 89 machine gun in the dorsal position
		one flexible 7.7 mm Type 89 machine gun in the ventral position
		up to 1102 lb (500 kg) of bombs 
Reference: 	Francillon: 123

Specifications:
        Length:         36' 9" (11.2 m)
        Height:         12' 1.75" (3.7 m)
        Wingspan:       50' 10.25" (15.5 m)
        Wing area:      365.972 sq. ft (34 sq. m)
        Empty Weight:   9039 lbs (4100 kg)
        Loaded Weight:  12677 lbs (5750 kg)

Propulsion:
        No. of Engines: 2
        Powerplant:     Nakajima Ha-315-I 14-cylinder radial
        Horsepower:     1360 hp each

Performance:
        Range:          1243 miles (2000 km)
        Cruise Speed:   n/a 
        Max Speed:      332 mph (535 km/h) at 18,370 ft (5600 m)
        Climb to/in:    16,405 ft (5000 m) in 7 min 30 sec
        Ceiling:        32,810 ft (10,000 m)
Production:		six Ki-66 prototypes total


For a very nice scale color drawing of this aircraft, see here.


(go to Kawasaki page) 
If you don't see the table of contents at the left of your screen, CLICK HERE to see the rest of this website!