Consolidated (Convair) XB-36 Peacemaker
---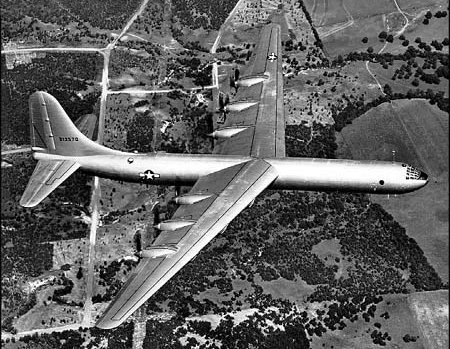 In 1941 a requirement for a bomber capable of bombing European targets from the Western Hemisphere was requested by the Army Air Corps. The Peacemaker was designed by Consolidated to meet those specifications, which included the ability to carry up to 72,000 pounds of bombs. The company designation for this aircraft was the Model 35, and it was designed to have twin fins and rudders (a feature that was later changed to be a single giant tail). Northrop aircraft was also designing an aircraft to meet the 1941 Air Force specification, and developed an aircraft that came to be known as the XB-35 Flying Wing. To avoid confusion with the Northrop bomber, the Model 35 was redesignated the Model 36, and a six engine design was settled upon. In November 1941 a contract for two prototypes was given by the Air Force. Consolidated was already busy building the B-24 Liberator (and later the B-32 Dominator), so progress on the XB-36 was slow. Consolidated Aircraft merged with Vultee Aircraft Inc. in March 1943, which lead to the unofficial name "Convair" (which became official in April 1954). In June 1943 General Hap Arnold placed an order for 100 examples of the B-36, with the first prototype to be ready for flight by September 1944. By mid-1944 the war was going better for the Allies, and the priority level of the XB-36 was reduced in light of the success of the Boeing B-29 Superfortress. Progress continued slowly, with the first XB-36 being rolled out on September 8, 1945, and achieving its first flight on August 8, 1946. The first B-36A took flight in August 1947, and the B-36 remained in service with the Strategic Air Command throughout the 1950s. However, by late 1958 the B-36 was phased out and replaced by the Boeing B-52 as the premier USAF heavy bomber.
For more data on this aircraft, click here for Joe Baugher's webpage.
USAF archives on this aircraft, click here.
Additional information on this aircraft can be found at Wikipedia here.
(updated February 2009)

Consolidated XB-36 Peacemaker
Type:		long range strategic bomber
Crew:		15
Armament: 	Designed for ten .50-cal. machine guns, five 37mm cannon
                (No defensive armament was actually installed)
                up to 77,784 lbs of bombs 

Specifications:
	Length:        	163' 0" 
	Height:        	46' 10"
	Wingspan:      	230' 0" 
	Wing area:	4772 square feet
	Weight: 	265,000 lbs. lb (max. gross weight) 

Propulsion:
	No. of Engines:	6
	Powerplant:    	Pratt & Whitney R-4360-25 Wasp Major radial engines
	Horsepower:	3000 hp each

Performance:
	Range: 		9500 miles with 10,000 pounds of bombs,
			3850 miles with 77,784 pounds of bombs
	Max Range: 	3800 miles (6115 km)
	Cruise Speed:   216 mph
	Max Speed:      346 mph at 35000 ft
	Max Ceiling:    38,000 ft


If this page does not have a navigational frame on the left, click HERE to see the rest of the website.