Vought F4U Corsair
---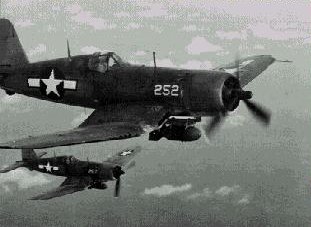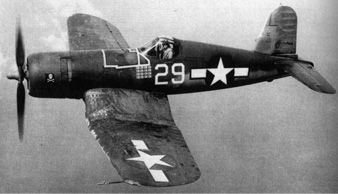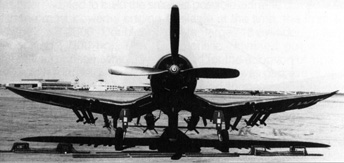 SYNOPSIS: Known as the most outstanding carrier-based fighter to be used operationally in WWII, the Corsair has become legendary. Known to the Japanese as "Whistling Death", the Corsair was famous for its bent gull-wings and its high kill ratios. The Corsair was the first U.S. single-engined fighter to exceed 400 m.p.h., and had much better performance than the F4F Wildcat, which was the current top-of-the-line Navy fighter when the Corsair was introduced. Unfortunately, due to its very long nose (which limited pilot visibility, especially during take-offs and landings), it was believed by the Navy high command to be unsuitable for carrier operations. Typically, when the Navy had an aircraft that it did not want, it gave them to the Marines (the F2A Buffalo, and later the F7F Tigercat being further examples). This is what happened to the Corsairs, as they were restricted to land bases. The Marines were happy to replace their old Wildcats with this hot new fighter, and soon showed everyone what the Corsair was capable of. Pappy Boyington and his Black Sheep Squadron was one of many who used the Corsair's abilities to its fullest. Later in the war it was proven that the Corsairs could operate safely off of carriers, and the "bent-wing birds" were used very successfully in helping to thwart the kamikaze raids in the war's final months. Demand for the Corsairs was such that they were also produced by Brewster and Goodyear.

LONG HISTORY: for a more detailed history of this aircraft, click HERE.
For additional data and history on the F4U, click here for Jack McKillop's article on Microworks.net.
For more photos of this aircraft, visit my Naval Air War In the Pacific website.
For a website devoted to the Corsair, click here for Johan de Swaef's website.
Additional information on this aircraft can be found at Wikipedia here.
(updated February 2009)

To see books about this aircraft on Amazon.com, click here.

Vought F4U Corsair
Type:           Fighter
Crew:           1, Pilot
Armament:       six .50 cal machine guns

Specifications:
        Length:         33' 8" (10.26 m)
        Height:         14' 9" (4.50 m)
        Wingspan:       41' (12.5 m)
        Empty Weight:   9205 lbs (4174 kg)
        Gross Weight:   14669 lbs (6653 kg)
        Max Weight:     14670 lbs (6653 kg)

 Propulsion:
        No. of Engines: 1
        Powerplant:     Pratt & Whitney R-2800-18W
        Horsepower      2100 hp

 Performance:
        Range:          1005 miles (1618 km)
        Max Speed:      446 mph (718 km/hr)
        Climb:          3870 ft/min (1179.52 m/min)
        Ceiling:        41500 ft (12649 m)
---
CLICK HERE TO SEE BOOKS ON THE CORSAIR ON AMAZON.COM
If this page does not have a navigational frame on the left, click HERE to see the rest of the website.