Vought TBU / Consolidated TBY
Sea Wolf
---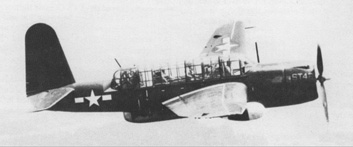 Competing against the Grumman Corp. to provide a replacement for the Douglas TBD Devastator torpedo plane for the U.S. Navy, the Vought Sea Wolf was proved to be considerably superior to the TBF Avenger. Like the Avenger, it had a long internal torpedo bay and a revolving dorsal turret for a rear-facing gunner. Despite a U.S. Navy decision to procure the type without delay, Vought was unable to produce enough aircraft from its limited capacity. This led to a contract being awarded to Consolidated Aircraft for 1,100 TBY-2 Sea Wolfs, though VJ-Day cancellations resulted in only 180 examples being made. None of these saw operational use, however.
Additional information on this aircraft can be found at Wikipedia here.
(updated February 2009)

Vought TBU / Consolidated TBY Sea Wolf

Type: 		Torpedo Bomber
Crew: 		3 (pilot, bomb-aimer, radio operator/gunner)
Armament: 	three forward firing .50 cal machine guns
		one .50 cal machine gun in dorsal turret
		one .30 cal machine gun in ventral position
		one torpedo in internal bay

Specifications:
	Length: 	39' 2.5" (11.9512.47 m)
	Height: 	15' 6" (4.72 m)
	Wignspan:	56' 11" (17.35 m)
	Takeoff Weight: 18,488 lb (8386 kg) maximum

Propulsion:
	No. of Engines: 1
	Powerplant: 	Pratt & Whitney R-2800-20 Double Wasp
	Horsepower:	2000 hp

Performance:
	Range: 		1500 miles (2414 km)
	Max Speed: 	306 mph ( 492 km/h)
	Ceiling:  	27200 ft (8290 M)


(go to Vought page)
If this page does not have a navigational frame on the left, click HERE to see the rest of the website.