General Motors P-75 Eagle
---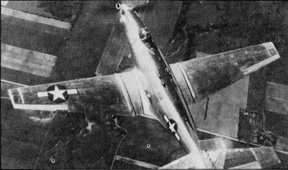 In 1942 the USAAF asked for designs for a high performance fighter with an unprecedented rate of climb, to intercept Japanese bombers in the Pacific theater. The Fisher Body Division of General Motors submitted a design for an aircraft that would use the most powerful inline engine then available, as well as "off-the-shelf" major assemblies (which would shorten development times). The P-75 airframe used the outer wing panels of the Curtiss P-40, the tail unit of the Douglas A-24/Dauntless, and landing gear of the Vought F4U Corsair. The engine was located in the fuselage behind the pilot, similar to the layout of the Bell P-39. Eight prototypes were ordered by the USAAF, but problems were found during testing. By the time the problems were fixed, other capable fighters (like the P-51 Mustang) were available, and the production contract was cancelled.
For more data on this aircraft, click here for Joe Baugher's webpage.
USAF archives on this aircraft, click here.
Additional information on this aircraft can be found at Wikipedia here.
(updated February 2009)

Fisher (General Motors) P-75 Eagle

Type:           single-seat fighter
Crew:           1
Armament:       six .50 inch machine guns in the wings
                four .50 inch machine guns in the fuselage
                optional 2 600 lb. bombs

Specifications:
        Length:         40' 5" (12.32 m)
        Height:         15' 6" (4.72 m)
        Wingspan:       49' 4" (15.04 m)
        Wing area:      347 sq. ft (32.24 sq. m)
        Empty Weight:   11,495 lb (5214 kg)
        Max Weight:     18,210 lb (8260 kg) max at takeoff

Propulsion:
        No. of Engines: 1
        Powerplant:     Allison V-3420-23 inline
        Horsepower:     2885 hp

Performance:
        Range:          2000 miles (3219 km)
        Cruise Speed:   310 mph ( 499 km/h)
        Max Speed:      420 mph ( 676 km/h) at 20,000 ft
        Ceiling:        36,000 ft (10,970 m)


If this page does not have a navigational frame on the left, click HERE to see the rest of the website.