The Men: Part One - The Aces
There is not enough space on this site to honor every man who was a contributor to the Cactus Air Force. However, a few individuals stand out from the crowd (and had available photos).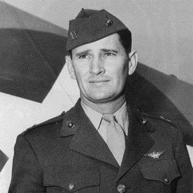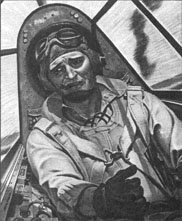 Captain Joe Foss, USMC
With 26 victories, Joe Foss was the first American ace of World War II to tie the World War One record of the legendary Eddie Rickenbacker. His actions with the Cactus Air Force earned him the Congressional Medal of Honor and the cover of LIFE magazine. After Guadalcanal, he served a second tour in the Pacific, ending the war as the second highest scoring Marine ace. (He has since become America's top Marine ace, due to post-war re-evaluations of Pappy Boyington's victories.) After WWII, Joe went on to become the youngest governor of South Dakota (two terms), helped start the American Football League, and served as President of the NRA. He was active in numerous civil and patriotic organizations until his death in January of 2003. Click HERE to read a recent interview with General Foss about flying during the Guadalcanal campaign.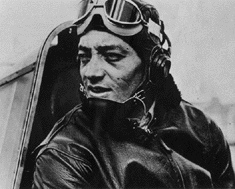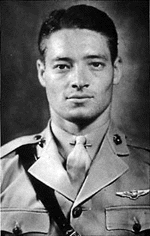 Major John L. Smith, USMC
Major Smith was the commanding officer of Marine Fighting Squadron 223. He was credited with 19 victories during his seven weeks on Guadalcanal, and was awarded the Congressional Medal of Honor. Tough, aggressive and wholly mission-oriented, Smith was regarded as one of the premier unit commanders ever produced by the Marine Corps.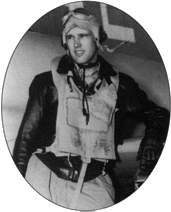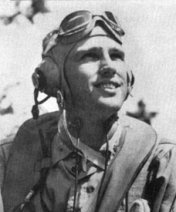 Captain Marion E. Carl, USMC
Widely acknowledged as one of the finest aviators of all time, Marion Carl first became famous as a fighter pilot flying with VMF-221 at Midway and VMF-223 at Guadalcanal. He ended the war as the third-ranking Wildcat ace with 16.5 victories, plus 2 more scored in F4U Corsairs during his second combat tour. He went on to set post-war world altitude and speed records, and pioneered Marine Corps helicopters. He continued on to fly jet and helo missions in Vietnam, retiring as a Major General in 1973. Tragically, he was murdered in his home in 1998 while defending his wife from an intruder.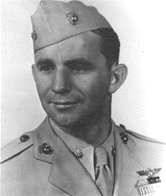 Major Robert E. Galer, USMC
Robert Galer was the leader of VMF-224, which arrived at Guadalcanal on August 30, 1942. During his two months on the island, he scored 14 victories, and under his leadership his squadron achieved 61.5 victories. He finished the war as the fourth ranking Marine ace, and was awarded the Congressional Medal of Honor upon his return to the United States.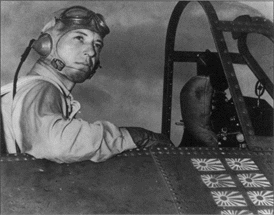 Machinist Donald E. Runyon, USN
Donald Runyon (formerly an enlisted pilot) was the Navy's top Wildcat ace of WWII. He scored eight victories in three combats during August 1942, including four kills during the Battle of the Eastern Solomans. During a later combat tour in the Pacific he scored three more victories while flying F6F Hellcats.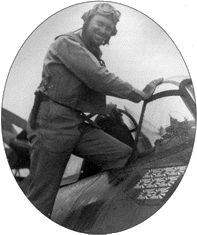 Lt. Stanley W. "Swede" Vejtasa, USN
Lt. Vejtasa set a record for Wildcat pilots with seven victories during one day during the Battle of Santa Cruz. This aviator from VF-10 claimed 5 'Vals' and 2 'Kates', and possibly saved the Enterprise from destruction. Originally a Dauntless pilot on the Yorktown, he had transferred to fighters, and had fought in the Battle of Coral Sea. He received the Navy Cross for his actions at Santa Cruz.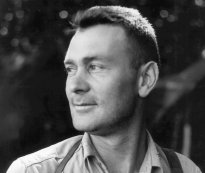 Major Paul J. Fontana, USMC
Major Fontana served with VMF-112, amassing five kills during his tour on Guadalcanal. During his Marine Corp service, he was decorated with the Distinguished Flying Cross, the Navy Cross and the Silver Star. He retired as a Major General in 1975, and passed away in 1999.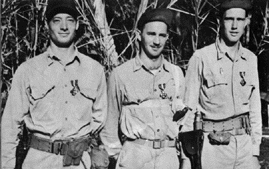 Three recipients of the Navy Cross
Left to right: Major John L. Smith, Major Robert E. Galer and Capt. Marion E. Carl, after just having been decorated by Admiral Nimitz on October 1, 1942. They are wearing blue baseball caps that were part of the uniform of Cactus pilots.


Go to The Men: Part Two - More Pilots
Go to The Men: Part Three - Squadron photos
Go to The Men: Part Four - The Leaders
Go to The Men: Part Five - Supporters
Go to The Men: Part Six - U.S. Units Involved

Click HERE if navigation menu is not visible on the left