The Men: Part Three - Squadron photos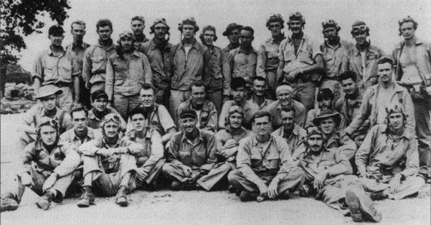 Pilots from VMF-121 and VMO-251
This photo of VMF-121 fighter pilots includes eight pilots from VMO-251 who helped fill out their ranks. Even in this blurry scan you can see how tired everyone is.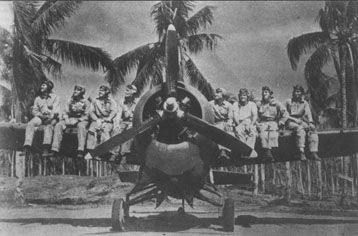 Another VMF-121 group photo
A picture of VMF-121 pilots that went back to Cactus after the first tour. Most of VMF-121 was sent to Samoa in a large pilot swap in early December. The pilots are (l to r) Haberman, Freeman, Furlow, Foss, Loesch, Presley, Marontate, and Bate.
(Source:Air Classics magazine, August 1993)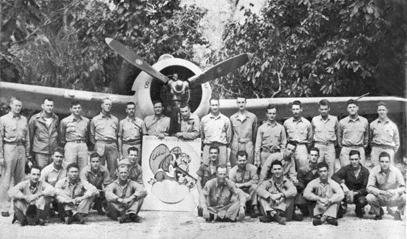 Men of Marine Fighting Squadron 212
Their charismatic leader "Indian Joe" Bauer (one of the Cactus Air Force's legendary fighter pilots) is standing just to the right of the sign.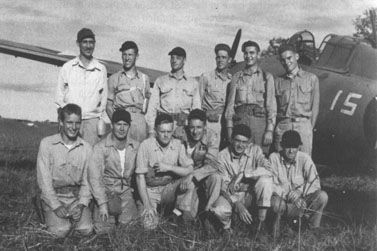 Pilots from VMF-223
L-R standing: HK Marvin, KD Frazier, John L. Smith, Marion E. Carl, CS Hughes, C Kendrick (KIA). kneeling: RR Read, FE Gutt, WS Lees (KIA), CG Winter, CR Jeans, CM Canfield. Date: late September 1942.
(Source: The First Team and the Guadalcanal Campaign by John Lundstrom)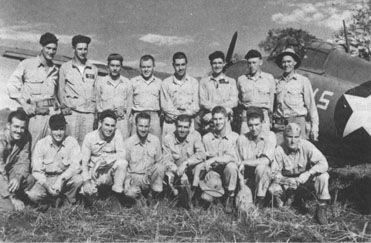 VMF-224, late September 1942
L-R standing: Hollowell, Brooks, Musselman, Johnson, Kennedy, Kunz, Hartley, Fuller. L-R Kneeling: D'Arcy, Nicolay, Dobbin, Galer, Armistead, Irwin, Walter, Treptow.
(Source: The First Team and the Guadalcanal Campaign by John Lundstrom)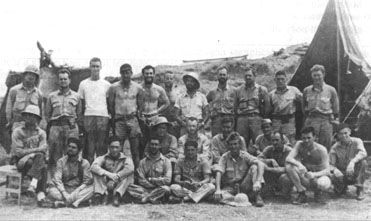 VF-5 group photo
VF-5 poses in front of its ready tent at Henderson Field, September 28, 1942.
(Source: The First Team and the Guadalcanal Campaign by John Lundstrom)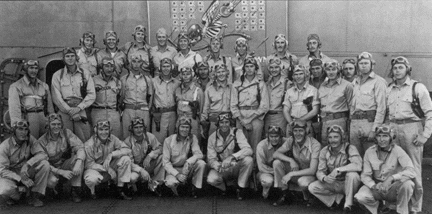 US Naval aviators of VF-10, U.S.S. Enterprise
Men of VF-10, the "Grim Reapers", pose in front of the squadron scoreboard at the end of their first combat tour, in which they claimed 43 shootdowns. The pilots of the Enterprise were instrumental in the Battle of Santa Cruz and the later defense of Guadalcanal.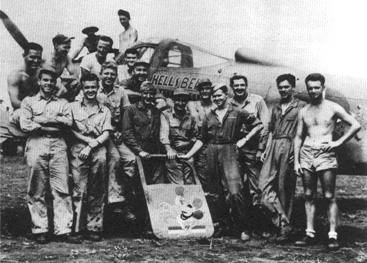 Army Air Corps pilots
Men of the USAAF 67th Fighter Squadron pose with one of their P-39s "Hell's Bells" in November of 1942.
(Source: "Guadalcanal - The Island of Fire" by Robert Lawrence Ferguson)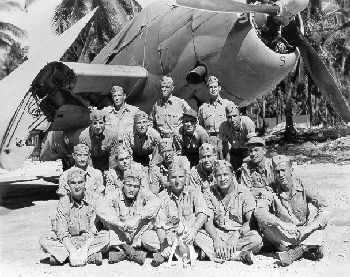 Survivors of the Cactus campaign, USMC aviators of VMSB-131
According to Robert Woolfe, veteran flight crewman with VMSB-131 during this combat tour (he was a radioman), the photo appears to have been taken during Spring 1943 – probably May or the beginning of June. The group appears to be all the pilots (17) in the squadron around that time. Pilots in the squadron lost (KIA or missing) are not in the photo, so this would be at or near the end of the squadron's Guadalcanal tour. Location believed to be Espiritu Santo – the main base for VMSB-131. For a larger version of this photo, and pilot names, see the VMSB-131 page.
(Source: Robert Woolfe via William Turner)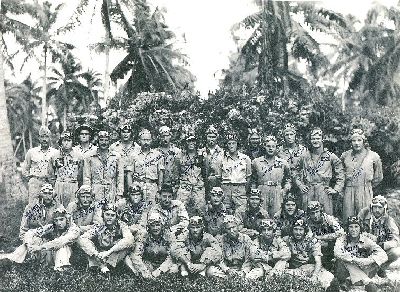 NEW! - Marine squadron VMSB-132
This photo was taken during the Spring of 1943 on the island of Espiritu Santo, where the squadron was recovering from their tour of duty on Guadalcanal. This photo was provided by Rod Hicks, who has a webpage about his father (a member of VMSB-132). A larger version of the photo (complete with names), and other photos and info can be found on his webpage HERE.

Go to The Men: Part One - The Aces
Go to The Men: Part Two - More Pilots
Go to The Men: Part Four - The Leaders
Go to The Men: Part Five - Supporters
Go to The Men: Part Six - U.S. Units Involved

Click HERE if navigation menu is not visible on the left