The Men: Part Four - The Leaders
Men who lead the Cactus Air Force in 1942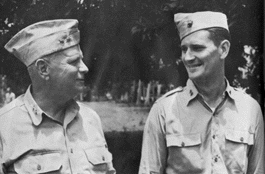 Major General Roy S. Geiger (left) and Joe Foss, USMC
General Geiger was the commander of the First Marine Aircraft Wing, and therefore all aircraft on the island of Guadalcanal.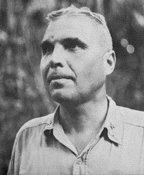 Brigadier General Louis Woods, USMC
General Woods replaced General Geiger as the commander of the Cactus Air Force on November 7, and led it during the climatic November battles.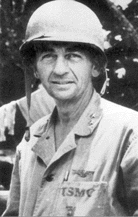 Major General Ralph J. Mitchell, USMC
General Mitchell was Director of Marine Corps Aviation on Guadalcanal during the fighting in 1942.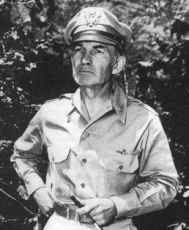 Lt General F. Harmon, USAAF
Lt General Harmon was commander of the US Army Forces in the South Pacific area. He was lost and reported missing on a non-combat flight over the Pacific in February, 1945.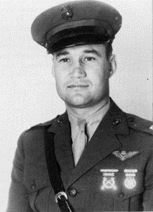 Lieutenant Colonel Harold William "Joe" Bauer, USMC
Joe Bauer was the commander of Marine Fighter Squadron 212 at Guadalcanal. Known as "Indian Joe" and as "The Coach", he was immensely respected for his combat flying and leadership abilities. As a leader he was not supposed to fly combat missions, but he took to the air four times, resulting in 11 victories. Just before his tour of Guadalcanal was to end he went on his last mission, was shot down, and is believed to have succumbed to the dangers of the waters off of the Russell Isands (near Guadalcanal). His loss was keenly felt by all who knew him. He was posthumously awarded the Congressional Medal of Honor.
(Click HERE for the story of his last mission and the attempt to rescue him.)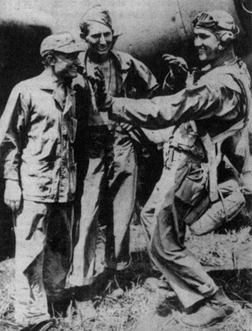 "...and as he pulled up I blasted 'em..."
In the above photo, Colonel Joe Bauer (on the right) visually describes his dogfight to his dedicated ground crew.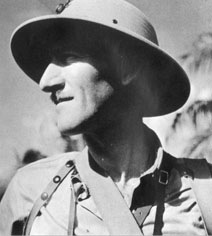 NEW! - Lt Colonel Richard C. Mangrum, USMC
Commander of VMSB-232, the first dive bomber squadron of Guadalcanal.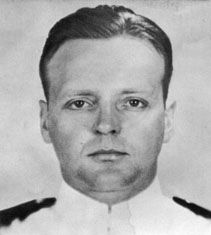 NEW! - Lieutenant Swede Larsen, USN
Commander of Torpedo Eight squadron during its long tour at Henderson Field
Go to The Men: Part One - The Aces
Go to The Men: Part Two - More Pilots
Go to The Men: Part Three - Squadron photos
Go to The Men: Part Five - Supporters
Go to The Men: Part Six - U.S. Units Involved

Click HERE if navigation menu is not visible on the left