The Men: Part Two - More Pilots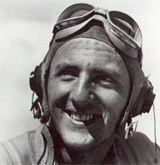 Capt. Jeff DeBlanc, Wildcat pilot with VMF-112
Jeff was an up-and-coming pilot who played a big part in an air battle on October 12, when he and other fighter pilots broke up an attack by Japanese Betty bombers on U.S. transport ships that were trying to unload crucial supplies and reinforcements to Guadalcanal. Jeff's downing of two of the Bettys helped save the U.S. ships from destruction. He later downed five enemy planes in a single mission on January 31, 1943, earning the Medal of Honor.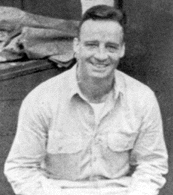 Major Jack Cram, PBY pilot
Major Cram flew General Geiger's personal PBY Catalina flying boat in an attack on Japanese shipping on October 15, 1942. Click HERE to read about this event in Jack Cram's own words. See the section titled "The Aircraft" to see a photo of his PBY and for additional info.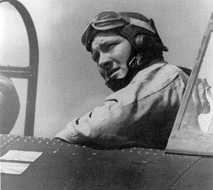 Ensign W.M. Rouse, Wildcat pilot
Ensign W.M. Rouse, flying an F4F Wildcat from the USS Enterprise, shot down two Japanese torpedo bombers during the invasion of Guadalcanal from August 7 to 9, 1942.

Ensign F.R. "Cash" Register, Wildcat pilot with VF-5
Ensign Register was one of about 14 airmen who personally received Distinguished Flying Crosses from Admiral Nimitz during Nimitz' visit to Guadalcanal on September 30. He is credited with eight kills during his time in the Solomons, but was shot down during the Aleutian campaign in the battle for Attu Island. NEW! - Click HERE to read a copy of his diary from flight school to the end of his tour of duty on Guadalcanal.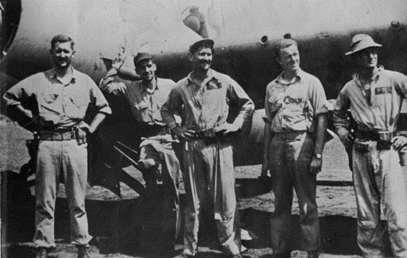 Joe Foss' flight of VMF-121 on Guadalcanal
Left--Right: Roger Habermann, Danny Doyle, Joe Foss, Bill Maronate, Roy Ruddell.
Both Doyle and Ruddell were killed in combat during the campaign.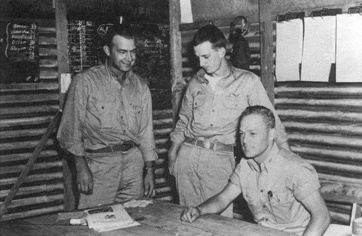 Army air operations are discussed
Pilots of the 67th Fighter Squadron in the operations shack at Cactus. They are from left-to-right: Lt. L.H. Ramp, Lt. J.T. Jarman, Capt. John A. Thompson. (U.S. Army Air Corps)
(Source: "Guadalcanal - The Island of Fire" by Robert Lawrence Ferguson)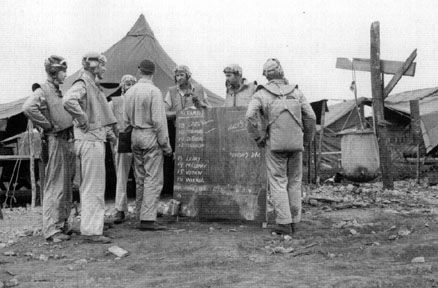 Who's on first.....
A group of Cactus pilots holds a meeting around the duty board, assigning members to the different divisions within their squadron. Casualities and the ever-present island diseases caused frequent changes to the flight assignment list (though most all of the men flew regardless of their malaria). (Photo taken approximately April 20, 1943.)
(Source: "This Is Guadalcanal" by L. Douglas Keeney and William S. Butler)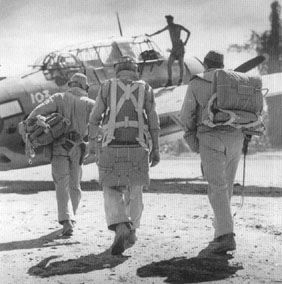 Marine Air Group 23 Avenger crew
A Marine Avenger crew prepares to board their torpedo bomber, while the ground crewman waits for them on the wing.
(Source: "This Is Guadalcanal" by L. Douglas Keeney and William S. Butler)


Go to The Men: Part One - The Aces
Go to The Men: Part Three - Squadron photos
Go to The Men: Part Four - The Leaders
Go to The Men: Part Five - Supporters
Go to The Men: Part Six - U.S. Units Involved

Click HERE if navigation menu is not visible on the left