The Men: Part Five - Supporters
The Ground Crew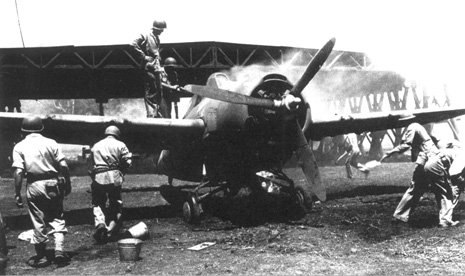 Mechanics put out the fire on a Wildcat after an air raid.
Marines try to save a hard-to-replace Wildcat left burning after Japanese
bombers attacked the field. Arvil Jones of CUB-One is the man on the far left.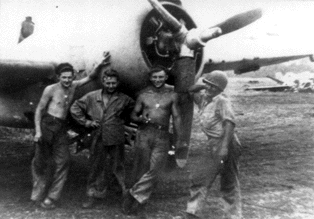 A lighter moment for VMF-121 ground crew
Ask any pilot who the unsung heroes are during any air campaign, and they'll usually say it was the ground crewmen. This was especially true during the battle for Guadalcanal, where the ground crew performed miracles, working practically around the clock to patch and repair the worn aircraft of the Cactus Air Force. During one week they were able to make 40 flyable planes out of piles of grounded and junked aircraft. These dedicated men worked under primitive conditions with little sleep or support from outside the island, and yet they kept the Cactus Air Force flying with the maximum number of aircraft possible. In the photo above, a few of the ground crew and mechanics of VMF-121 pose next to one of their charges on Guadalcanal. Left-to-right: Sergeant Nick Boris, Private 1st Class Irvin R. Zivney, Sergeant Charles W. Edwards, Corporal John R. Hrisak.

The Coast Watchers and local natives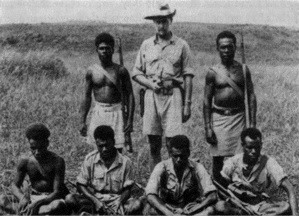 Coastwatchers
While not actually a part of the Cactus Air Force, the men known as "Coastwatchers" were important to it's success. These men (from Allies such as Britain and Australia, and their native helpers) were usually in hiding on outlying islands, and kept the Americans on Guadalcanal informed of Japanese ship movements and incoming air raids by radio. This knowledge was instrumental in allowing the Americans to use their meager resouces to thwart the incoming attacks. (Click HERE to see a larger, clearer version of this photo.)
Here's a link to a 1998 interview with Martin Clemens, the coastwatcher in the above photo.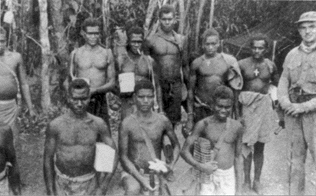 Rescued by friendly natives
NAP Staff Sergeant James A. Feliton (on the right) poses with the natives that brought him
back to Henderson Field on October 22nd. Feliton had been shot down on October 19th.

Miscellaneous photos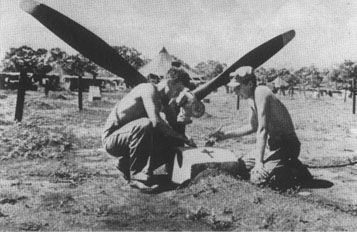 Some paid the ultimate price
Airmen tend the grave of a fallen comrade.
(Source:Air Classics magazine, August 1993)


Go to The Men: Part One - The Aces
Go to The Men: Part Two - More Pilots
Go to The Men: Part Three - Squadron photos
Go to The Men: Part Four - The Leaders
Go to The Men: Part Six - U.S. Units Involved

Click HERE if navigation menu is not visible on the left